The Greasy Strangler | A gross-out horror comedy that sticks in one's craw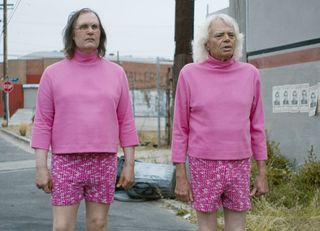 (Image credit: © The Movie Partnership)
"Disgusting and inane"
A gross-out horror comedy about a freakishly dysfunctional father and son, The Greasy Strangler is a bizarre movie that all too knowingly courts cult status. All too knowing, as well, is the way it seeks to shock.
By night, the revolting father, Big Ronnie (Michael St Michaels), is the serial killer of the title, his body covered with cooking fat. By day, he and his bovine middle-aged son, Big Brayden (Sky Elopbar), lead disco-themed walking tours. Which leads to Oedipal strife when they both fall for one of their punters (Elizabeth De Razzo).
Accompanied by an irritatingly tinny electro-synth score, director and co-writer Jim Hosking's movie goes out of its way to be disgusting and inane. It will undoubtedly find a niche audience. Most viewers, however, will want to steer well clear
Certificate 18. Runtime 93 mins. Director Jim Kosking
The Greasy Strangler debuts on Sky Cinema Premiere on Thursday 23 February and is available on Blu-ray & DVD from Spirit Entertainment.
https://www.youtube.com/watch?v=q3C3ceUYXRY
Get the latest updates, reviews and unmissable series to watch and more!
Thank you for signing up to Whattowatch. You will receive a verification email shortly.
There was a problem. Please refresh the page and try again.