Nightmare (1964) | The vintage Hammer chiller arrives on Blu-ray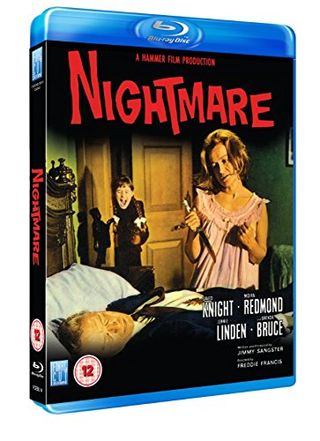 Hammer's psychological thriller starring Women in Love's Jennie Linden gets its first-ever UK HD release.
Aged just 23 at the time, Sussex-born Jennie Linden (who'd go onto star in Ken Russell's Women in Love before becoming one of the stars of TV's Lillie in 1978) was handpicked by Hammer's producers to replace Julie Christie for the role of troubled teenager Janet, who is haunted by memories of witnessing her mother killing her father when she was a child.
Expelled from boarding school, Janet is sent home to High Towers, a vast country mansion, to live with her guardian Henry Baxter (David Knight). But when the nightmares persist, Janet finds herself loosing her mind…
Like Hammer's Scream of Fear, Paranoiac and The Maniac, Nightmare shares its DNA with Henri-Georges Clouzot's Les Diaboliques and Alfred Hitchcock's Psycho, while returning director Freddie Francis and Hammer's in-house production crew imbues the gripping mystery with lashings of atmosphere.
The film's second half may not be as polished as the film's initial 45-minutes in which an excellent Linden brings pathos and hysteria to the fore, but it does give Moira Redmond, playing Janet's nurse with a hidden agenda, a chance to strut her stuff.
This new Blu-ray release from Final Cut Entertainment looks and sounds superb, and is the perfect opportunity to pay this cracking little thriller a revisit. It also comes with three insightful extras:
• Jennie Linden Memories: A lovely 13-minute chat with the actress – who famously dared to say 'No' to Ken Russell – conducted at her home on the Isle of Wight. • Madhouse: Inside Hammers Nightmare: A 13-minute insiders look at the production. • Nightmare in the Making (26min): Hammer historian Wayne Kinsey retraces the history of the thriller from concept to release.
Available from Amazon
https://youtu.be/twxwBPZ0M84
Get the latest updates, reviews and unmissable series to watch and more!
Thank you for signing up to Whattowatch. You will receive a verification email shortly.
There was a problem. Please refresh the page and try again.