Hummingbird | Things get hairy for Jason Statham on the mean streets of London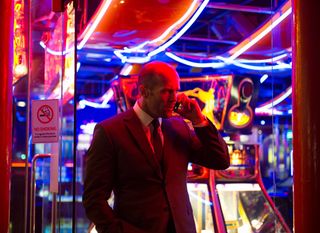 (Image credit: Dan Smith)
Cutting from a drone's eye-view of war-torn Helmand to aerial surveillance of London, Steven Knight's revenge thriller Hummingbird brings the trauma of the Afghan conflict home to the capital's mean streets.
The man in the frame who links these two locations is Jason Statham's British soldier turned drunken rough sleeper, Joey. And when we first encounter him, shaggy-haired, disheveled, and on the run from a court martial, he cuts a very different figure from the characters Statham usually plays.
Why, he even gets beaten to a pulp by a pair of weasely street thugs. Not what we've come to expect from a Statham movie.
Happily, a makeover is just around the corner. Fleeing from his tormentors, Joey takes refuge in an empty penthouse flat whose owner is conveniently away in New York. This fairytale-like stroke of good fortune quickly produces a spruced-up, shaven-headed Joey, suited and booted in borrowed clothes and looking much more like the Statham of old.
Soon enough, he's dishing out the violence rather than taking it, swiftly progressing from work as a kitchen porter in Chinatown to a job as a violent underworld enforcer for a Triad gang.
Yet he's on a mission of redemption and uses the money he makes to become a guardian angel to the homeless through the soup kitchen run by doubt-filled Polish nun Sister Cristina (Agata Buzek). Meanwhile, he's also searching for his former rough-sleeping companion, waif-like Isabel (Victoria Bewick), and seeking to wreak revenge on the men who have abused her.
As the screenwriter of Dirty Pretty Things and Eastern Promises, Knight is no stranger to putting London's sordid underbelly on screen. Directing his own script here, he doesn't make the same impact with Hummingbird, partly because of the plot's contrivances and partly because the film's more dramatic scenes take Statham out of his comfort zone.
Still, the film gives London a gritty glamour and, even if it's not remotely convincing, there's something engagingly loopy about the bizarre romance that develops between hard-man Joey and the ballet-loving nun.
As for Statham, when it comes to playing impossibly lethal flint-eyed loners, no one else in current British cinema can match him. Besides, who else could pull off, when confronted with a blade-wielding assailant, a surreal one-liner like this:
'You've got a knife. I've got a spoon.'
In cinemas from Friday 28th June.
https://www.youtube.com/watch?v=8c77ONP5QnM
Get the latest updates, reviews and unmissable series to watch and more!
Thank you for signing up to Whattowatch. You will receive a verification email shortly.
There was a problem. Please refresh the page and try again.