At the Cinema | Shutter Island - Leo risks a crack-up on Marty's craggy island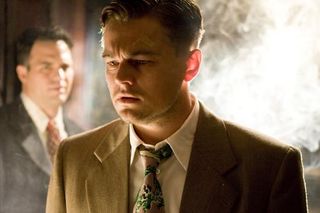 Shutter Island, Martin Scorsese and Leonardo DiCaprio's fourth screen collaboration, is a psychological mystery thriller that takes place in 1954 and harks back to that era's edgy film noir classics and exquisitely suggestive horror films. In look and mood, it recalls such B movie gems as Mark Robson's The Seventh Victim and Isle of the Dead, and Jacques Tourneur's I Walked With a Zombie and The Leopard Man, films which Scorsese screened during production for his cast and crew.
Scorsese's movie, however, is based on a 2003 book (opens in new tab) by Dennis Lehane (author of Mystic River (opens in new tab) and Gone, Baby, Gone (opens in new tab)) and opens with Di Caprio's US marshal Teddy Daniels and new partner Chuck Aule (Mark Ruffalo) crossing Boston Harbour by ferry to reach the Ashecliffe hospital for the criminally insane on craggy, storm-buffeted Shutter Island. They're going there to search for missing patient Rachel Solando, a woman who murdered her children.
Her disappearance is a locked-room mystery. Solando has vanished from her fastened cell, a hurricane is raging outside and there's no way off the island.
What is going on?
The puzzle is enough to give anyone a headache, but DiCaprio's Daniels has them already: debilitating migraines that leave him feeling wrecked. As if this weren't disorienting enough, he's also haunted by the past - by the death of his wife in an arsonist's fire and by his experiences as a WWII GI present at the liberation of Dachau concentration camp. The medication he's taking confuses his perceptions still further.
What is going on? Whom can he trust? Is head psychiatrist Dr Cawley (Ben Kingsley) really the humane clinician he claims to be? What should he make of Cawley's sinister German (ex-Nazi?) colleague Dr Naehring (Max von Sydow)? And what are they up to in the island's lighthouse?
Throw in twitchy patients and menacing staff, not to mention the looming shadows of McCarthyism, the Cold War, H-bombs, lobotomies and psychotropic drugs, and it's no wonder that Daniels finds it hard to keep his balance. And no wonder, as he plunges down dark corridors and dangles off cliff faces in a desperate bid to solve the mystery, that a chasm of madness and paranoia should open up vertiginously beneath his feet.
The solution to the mystery
Scorsese intensifies the delirium at every opportunity. With bleeding chunks from such 20th-century modernists as Ligeti and Penderecki throbbing and shrieking on the soundtrack, he keeps the tension at a pitch of near-constant hysteria.
Yet when the solution to the mystery is finally revealed, you're left with a sense of disappointment - even if you haven't already guessed the payoff. Is that all? Those old B movies to which Scorsese is paying homage usually had running times of around 70 minutes. At 138 minutes, Shutter Island is almost exactly twice as long. Unsurprising then that it feels as though a pulp story has been bulked out and blown up until it collapses from the strain. Think of all the money, energy and skill Scorsese has expended on the effort. That really is mad.
On general release from 12th March.
https://www.youtube.com/watch?v=5iaYLCiq5RM
A film critic for over 25 years, Jason admits the job can occasionally be glamorous – sitting on a film festival jury in Portugal; hanging out with Baz Luhrmann at the Chateau Marmont; chatting with Sigourney Weaver about The Archers – but he mostly spends his time in darkened rooms watching films. He's also written theatre and opera reviews, two guide books on Rome, and competed in a race for Yachting World, whose great wheeze it was to send a seasick film critic to write about his time on the ocean waves. But Jason is happiest on dry land with a classic screwball comedy or Hitchcock thriller.
Get the latest updates, reviews and unmissable series to watch and more!
Thank you for signing up to Whattowatch. You will receive a verification email shortly.
There was a problem. Please refresh the page and try again.