The Battle of Algiers (1966) | Gillo Pontecorvo's award-winning masterpiece of political cinema gets a newly-restored 4K release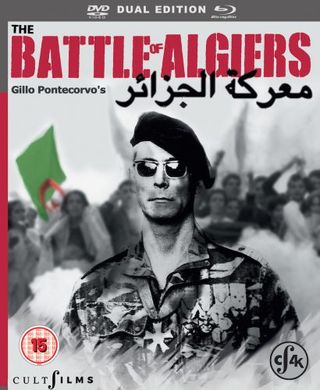 From CultFilms comes the release of the newly restored 4K version of The Battle of Algiers, which arrives for the first time in the UK in dual format (Blu-ray/DVD).
'One of the most remarkable films of all time' The Observer
'An extraordinary experience' The Guardian
'The most important piece of political filmmaking since Battleship Potemkin' Empire
A blistering attack on the savagery that was endured in order for Algeria to attain independence from the French, 1966's The Battle of Algiers is one of the most influential political movies of all time and won many awards for its Italian director Gillo Pontecorvo.
The film concentrates on the years between 1954 and 1957 when guerrilla fighters regrouped and expanded into the Casbah, the citadel of Algiers, which was met by French paratroopers attempting to regain territory. Told in flashback, it centres on one cell within the National Liberation Front (the FLN), which includes Ali la Pointe, a petty criminal who politically radicalised while in jail, then recruited by FLN commander El-hadi Jafar; Larbi Ben M'hidi, a top FLN leader, and three women who carry out a series of bombings.
Shot in a documentary style, using the actual locations of key events, and drawing on local people to dramatise the major players (including Algerian activist Saadi Yacef, whose 1966 memoir Souvenirs de la Bataille d'Alger inspired the film - he plays El-hadi Jafar and also produced), Pontecorvo's film possesses a realism that continues to astonish. It remains the perfect marriage of politics and cinema – like an Algerian take on Roberto Rossellini's quintessential neorealist masterpiece Rome Open City (1945) fused with striking Eisenstein-esque imagery.
Digitally re-mastered in 4K and restored preserving the grainy, newsreel look that the director Gillo Pontecorvo designed, the restoration was made by the L'Immagine Ritrovata with the participation of the director's son, cinematographer and director Marco Pontecorvo, in collaboration with CultFilms and was nominated for the Best Restored Version Award at the 2016 Venice Film Festival.
Special features include: • New extra on the 4K restoration • Booklet by Alan O'Leary (this is hugely informative, especially on how and why the film was produced in the first place) • The Making of the Battle of Algiers (interview with Director Gillo Pontecorvo) • The Real Battle of Algiers (interview with producer Saadi Yacef, head of FLN guerrillas in Algiers) • Our War for Freedom (interview with FLN fighter Zohra Drif Bitat) • Exclusive Presentation by director Paul Greengrass • Exclusive interview with director Ken Loach
Out now in a special collector's set on Blu-ray and DVD and also on VOD platforms from CultFilms
Get the latest updates, reviews and unmissable series to watch and more!
Thank you for signing up to Whattowatch. You will receive a verification email shortly.
There was a problem. Please refresh the page and try again.