The Bird with the Crystal Plumage (1970) | Dual format - The cult Italian thriller gets a stunning 4k-restored release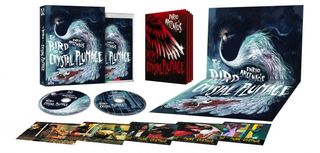 Dario Argento's superb 1970 directorial debut, The Bird With the Crystal Plumage, is released in a gorgeous, brand new 4K restoration from the camera negative in its original 2.35:1 aspect ratio, produced by Arrow Video exclusively for this release. Fans of Argento and Italian cinema can now see the film that reshaped the screen incarnation of the giallo in all its terrible beauty, as it was originally intended.
Sam Dalmas (Tony Musante, We Own the Night), an American writer living in Rome, inadvertently witnesses a brutal attack on a woman (Eva Renzi, Funeral in Berlin) in a modern art gallery. Powerless to help, he grows increasingly obsessed with the incident. Convinced that something he saw that night holds the key to identifying the maniac terrorising Rome, he launches his own investigation parallel to that of the police, heedless of the danger to both himself and his girlfriend Giulia (Suzy Kendall, Spasmo)…
A staggeringly assured debut, The Bird with the Crystal Plumage establishes the key traits that would define Argento's filmography, including lavish visuals and a flare for wildly inventive, brutal scenes of violence. With sumptuous cinematography by Vittorio Storaro (Apocalypse Now) and a seductive score by legendary composer Ennio Morricone (Once Upon a Time in the West), this landmark film has never looked or sounded better in this new, 4K-restored limited edition from Arrow Video!
AND THIS IS WHAT YOU GET • Brand new 4K restoration of the film from the camera negative in its original 2.35:1 aspect ratio, produced by Arrow Video exclusively for this release • High Definition Blu-ray (1080p) and Standard Definition DVD presentations • Original mono Italian and English soundtracks (lossless on the Blu-ray Disc) • English subtitles for the Italian soundtrack • Optional English subtitles for the deaf and hard of hearing for the English soundtrack • New audio commentary by Troy Howarth, author of So Deadly, So Perverse: 50 Years of Italian Giallo Films • The Power of Perception, a new visual essay on the cinema of Dario Argento by Alexandra Heller-Nicholas, author of Devil s Advocates: Suspiria and Rape-Revenge Films: A Critical Study • New analysis of the film by critic Kat Ellinger • New interview with writer/director Dario Argento (this 30-minute monologue is a real treat and very instructive) • New interview with actor Gildo Di Marco (Garullo the pimp) • Reversible sleeve featuring original and newly commissioned artwork by Candice Tripp • Double-sided fold-out poster • 6 Lobby Card reproductions • Limited edition 60-page booklet illustrated by Matthew Griffin, featuring an appreciation of the film by Michael Mackenzie, and new writing by Howard Hughes and Jack Seabrook
Get the What to Watch Newsletter
The latest updates, reviews and unmissable series to watch and more!