The Blue Dahlia (1945) | Blu-ray release – Alan Ladd and Veronica Lake in a thrilling film noir classic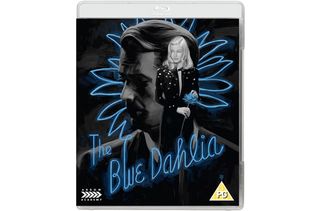 The classic 1940s noir thriller, The Blue Dahlia, starring Alan Ladd and Veronica Lake, based on an original screenplay by Raymond Chandler, heads to Blu-ray from Arrow Academy
Forties film star Alan Ladd scored one of his best roles in 1945's The Blue Dahlia, in which he played a discharged naval flier who becomes the prime suspect in his adulterous wife's murder. The gorgeous Veronica Lake is on hand to help clear his name…
Crime writer Raymond Chandler scored an Oscar nomination for his lean and mean original screenplay. It was the only one he ever wrote specifically for a movie and in which he completed while 'drunk' when production was speeded up on the film because Paramount studio bosses feared Ladd would be re-inducted into the real-life US army.
The film also marked the third pairing of Ladd and Veronica Lake following 1942's This Gun for Hire (which made Ladd a star) and The Glass Key (also available from Arrow Academy), and was released to great acclaim.
William Bendix is a standout as Ladd's shell-shocked war buddy and the complicated story all set on Hollywood's decadent night club strip, keeps twisting brilliantly until the final cop-out ending (that was also done to placate the US war office).
The Blue Dahlia is available on Blu-ray from Arrow Academy in the UK from 19 September. The extras include selected scene commentary and an introduction from author Frank Krutnik, the 1949 radio play, original trailer, gallery and promotional materials. Plus, a collector's booklet (first pressing only).
https://www.youtube.com/watch?v=mjnkh9Da0nM
Get the What to Watch Newsletter
The latest updates, reviews and unmissable series to watch and more!