The Impossible | Swept away with Naomi & Ewan in awesome tribute to tsunami survivors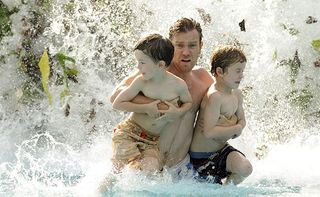 (Image credit: Snap Stills/REX/Shutterstock)
Based on the harrowing experiences of a Spanish family caught up in the Indian Ocean tsunami of 2004, real-life disaster movie The Impossible will leave you awestruck, stunned both by Nature's destructive power and by the human spirit's resilience. You'll be impressed, too, by the extraordinary craft and artistry shown by the filmmakers in putting this story on screen.
The team behind the film is also Spanish - director Juan Antonio Bayona, screenwriter Sergio Sánchez and producer Belén Atienza together created the hit 2007 chiller The Orphanage - but with an eye on the international box office they have turned their protagonists into an English family.
Naomi Watts and Ewan McGregor dial down their Hollywood glamour to play middle-class couple Maria and Henry (in reality María Belon and Enrique Alvarez), who are on holiday at a beach resort in Thailand with their three young sons when the tsunami strikes on Boxing Day with terrifying suddenness and force.
Bayona and his collaborators convey the violence of the tsunami brilliantly, but it's the way they handle its aftermath that really distinguishes their film (unlike Clint Eastwood's Hereafter, which sagged after its own stunning re-creation of the tsunami).
Churned and pummelled by the surging waters, Maria and 11-year-old son Lucas (superbly played by newcomer Tom Holland) surface inland to find themselves in the midst of near-total devastation. The grievously injured Maria is convinced her husband and younger sons are dead, but she must somehow hold herself together to safeguard Lucas. When, however, locals rescue them and take them to a hopelessly overstretched hospital, it is Lucas who must show maturity beyond his years to cope with the crisis.
These scenes are tremendously gripping and affecting, as are the sequences that deal with the fates of McGregor's Henry and the younger boys (Samuel Joslin and Oakless Pendergast).
You could, if you wanted, carp at aspects of the film - such as the filmmakers' box-office-friendly emphasis on the plight of Westerners rather than locals - but having chosen to highlight one particular story from the tsunami tragedy, Bayona and his team have handled it with commendable skill and sensitivity. And in doing so they have produced a film that is both epic and intimate (Watts' performance, in particular, is an emotional and physical tour de force).
The Impossible takes the breath away with its powerful restaging of the catastrophe; but if the wave's visceral impact knocks you off your feet then it's the story's emotional undertow that sweeps you away.
In cinemas from Tuesday 1st January.
Picture credits Snap Stills/REX/Shutterstock
Get the latest updates, reviews and unmissable series to watch and more!
Thank you for signing up to Whattowatch. You will receive a verification email shortly.
There was a problem. Please refresh the page and try again.