The Vikings (1958) | Blu-ray release – The rousing star-studded Hollywood historical adventure looks spectacular in HD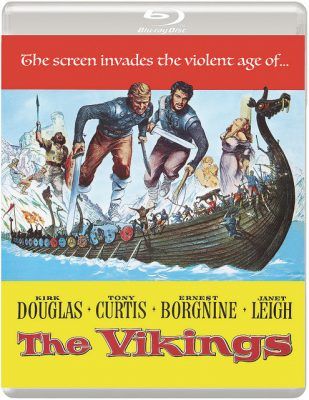 One of the big hits of the 1950s, The Vikings, starring Kirk Douglas, Ernest Borgnine, and husband and wife team Tony Curtis and Janet Leigh, gets its first time Blu-ray release from from Eureka Entertainment, as part of the Eureka Classics range.
A state of feud exists between Aella (Frank Thring), king of the English, and Ragnar (Ernest Borgnine), brutal Viking chieftain. Ragnar's son, Einar (Kirk Douglas), is a violent, pleasure-loving man – but he gets more than he bargained for when he taunts a young slave, Eric (Tony Curtis), who just happens his half-brother.
The melodramatic plotline of this searing Norse opera from director Richard Fleischer ( 20,000 Leagues Under the Sea) certainly takes a back seat to the gripping edge-of-your-seat combat scenes featuring clashing broadswords and axes aplenty; and to the glorious Technicolor visuals, courtesy of legendary cinematographer Jack Cardiff, who makes maximum use of the spectacular locations in the Norwegian Fjords, Croatia and Britanny.
Kirk Douglas and Tony Curtis have the times of their lives striding around in chainmail and leather as Douglas' Viking warrior battles with Curtis' surly slave over the affections of a kidnapped Christian princess, Morgana (Janet Leigh). Playing her maid is Dandy Nichols, aka Alf Garnett's long-suffering wife Elsie in the BBC sitcom Till Death Us Do Part.
While any similarity to actual history is purely coincidental, this epic slice of Hollywood hokum is a must-see and helped kick-off a whole sub-genre of imitators and even spawned a TV series (produced by Kirk Douglas).
SPECIAL FEATURES • 1080p presentation • Original stereo PCM soundtrack • Optional English subtitles • NEW video interview with film historian Sheldon Hall • A Tale of Norway (28 mins) –featurette about the making of the film, presented by Richard Fleischer • Original theatrical trailer • Collector's booklet
https://youtu.be/D0u-_lBS6F4
Get the latest updates, reviews and unmissable series to watch and more!
Thank you for signing up to Whattowatch. You will receive a verification email shortly.
There was a problem. Please refresh the page and try again.