Willow - George Lucas's 1988 sword-and-sorcery tale gets a 25th anniversary reissue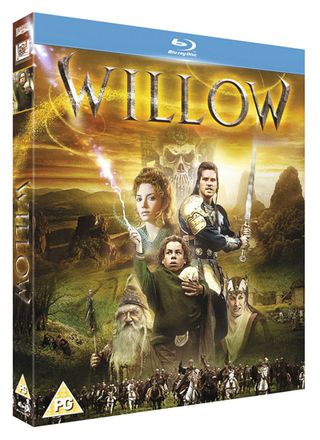 Originally released in 1988 and now getting a 25th anniversary Blu-ray release, cult favourite Willow saw producer George Lucas attempting to recreate the fantasy-adventure spirit of his Star War films in a sword-and-sorcery setting.
For the story, he again ransacked the world's store of legends and myths, and borrowed heavily from JRR Tolkein, too. The result was a tale set in a mythic kingdom of warriors and witches where magic, not the Force, is the bloodstream of the universe.
And the hero who must learn to channel this spirit is not plucky farmboy Luke Skywalker but plucky farmer Willow Ufgood (played by Warwick Davies) as he undertakes a perilous journey to save a baby princess from the clutches of an evil Queen (Jean Marsh).
Once more, the hero is accompanied on his mission by a bickering comic duo, not C3PO and R2D2 but a pair of tiny Brownies played by Kevin Pollak and Rick Overton. And again, there is a pair of sparring lovers, with Val Kilmer's outcast warrior Madmartigan and Joanne Whalley's Sorsha, the Queen's daughter, filling the Han Solo and Princess Leia roles.
Despite following the Star Wars template so closely, Willow flopped at the box office - perhaps because Lucas and director Ron Howard played up the story's sentimentality and whimsy at the expense of excitement and action.
But Kilmer and Whalley spark well together (so well, they later married) and Davies makes an engaging hero. And, even if the special effects (by Lucas's Industrial Light & Magic outfit) pale in comparison with Peter Jackson's The Lord of the Rings, the film's two-headed dragon was a cutting-edge creation in its day.
Released on Blu-ray by Twentieth Century Fox Home Entertainment on Monday 11th March.
Director Ron Howard and Warwick Davies will be taking part in a live Twitter chat on Tuesday 12 March at 10PM UK time. Fans can join in the conversation by tweeting questions using the hashtag #WillowChat.
Get the latest updates, reviews and unmissable series to watch and more!
Thank you for signing up to Whattowatch. You will receive a verification email shortly.
There was a problem. Please refresh the page and try again.