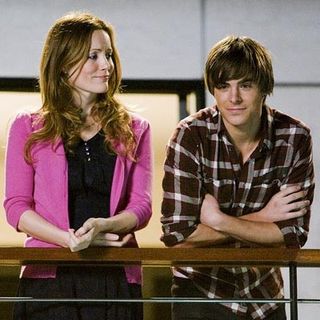 You can only return to the well so many times until you need to dig a new one. So runs the old saying. It is not a phrase that has ever been uttered in Hollywood, where 17 Again is the latest body-swap comedy to join a long list of movies including the likes of Freaky Friday, Vice Versa, 13 Going on 30 and the imperishable classic of the genre, Big.
Truth be told, this starring vehicle for current teen idol Zac Efron isn't half bad, as Adele and I discovered when we attended the movie's UK premiere two weeks ago.
OK, so the contents of the pail from this latest visit to the age-exchange well aren't as sparkling as Big, but they're far from being muddy dregs.
The movie opens in 1989 when Efron's 17-year-old jock, Mike O'Donnell, is a high-school basketball star (a familiar guise for Efron, natch, after High School Musical). He's on the verge of winning a college sports scholarship when his girlfriend, Scarlet, tells him she is pregnant. Mike does the decent thing and jacks in his hoop dreams to knuckle down to the role of husband and father.
Twenty years later, Efron's Mike has turned into a disgruntled Matthew Perry. His marriage to Scarlet has turned sour, he can't connect with his teenage kids and his job is going pear-shaped. If only he could turn back the clock…
Of course, this is what happens, thanks to the mystical intervention of a twinkling, white-haired old-timer who just happens to be on hand, and the thirtysomething Mike find himself inhabiting the body of his teenage self.
With the help of his old friend, bullied nerd-turned billionaire Ned (Thomas Lennon), Mike re-enrols in school, hoping to get a second shot at fulfilling his teenage dreams. It'd be good, too, if he could boost the confidence of insecure son Alex (Sterling Knight), steer daughter Maggie (Michelle Trachtenberg) away from her loutish boyfriend, and prevent Scarlet (Leslie Mann) from going through with their divorce.
Naturally, none of this is quite as easy to achieve as he hopes. His first efforts at high-school cool fall flat ("What did you do? Mug K-Fed?" sneers one girl at his hip-hop attire) and his relationships with his daughter and wife threaten to turn icky and inappropriate while he's in his teenage body.
Yes, we've seen this shtick before, but Efron's charm is effortless, Mann is dependably funny, and Lennon's sci-fi obsessed dork almost steals the show when, posing as Mike's father, he tries to woo the school's starchy principal (Melora Hardin).
Yet there's one aspect of the film that I find hard to swallow. No, not the body swap but the far-fetched notion that the exceedingly slight Efron could ever be a star jock. Come off it! He's tiny. He barely comes up to the ref's navel. And when there's a jump off, he doesn't so much stand shoulder to shoulder with the opposing player as shoulder to hip. Hoop star? I just don't buy it. If I'm missing something, Efron's fans should please put me right.
Released 10th April
A film critic for over 25 years, Jason admits the job can occasionally be glamorous – sitting on a film festival jury in Portugal; hanging out with Baz Luhrmann at the Chateau Marmont; chatting with Sigourney Weaver about The Archers – but he mostly spends his time in darkened rooms watching films. He's also written theatre and opera reviews, two guide books on Rome, and competed in a race for Yachting World, whose great wheeze it was to send a seasick film critic to write about his time on the ocean waves. But Jason is happiest on dry land with a classic screwball comedy or Hitchcock thriller.
Get the latest updates, reviews and unmissable series to watch and more!
Thank you for signing up to Whattowatch. You will receive a verification email shortly.
There was a problem. Please refresh the page and try again.