Katherine Kelly: 'Working in Selfridges is a comedown for Mae!'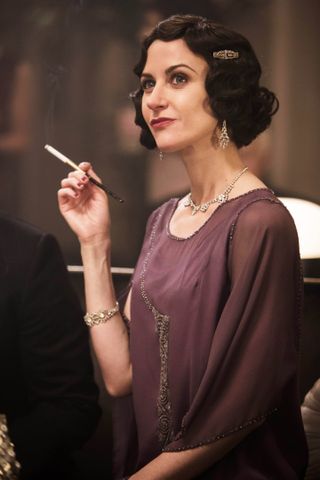 After taking a year off to have a baby, Katherine Kelly reprised her role as socialite Mae in the opening episode of Mr Selfridge (ITV, Fridays). Here, the former Coronation Street actress talks about the joys of motherhood and teases what's to come for Mae...
When Mr Selfridge returned for its fourth and final series tonight, Mae – now known as Mae Renard – paid a surprise visit to Harry. It seems lots had changed for her…
"Mae's getting divorced again – she's not a Lady any more and is now working in Selfridges, which is a bit of a comedown for her! But this series is set in post-war Britain and women are out working more, so Mae's embracing her new situation."
How did it feel for you personally to return to Mr Selfridge after a year-long break to have your daughter Orla, now almost two?
"Some days it feels like a completely new job and other days it feels like I never went away and had a baby. I spent my maternity leave in Australia with my husband Ryan. I really appreciated having the luxury of being able to take a year off because not everybody can. It was a really special time for us as a family – but it seems like a million years ago now!"
Did you always plan to come back to the UK?
"Oh yes. I actually came back a little earlier than planned because I got offered a job at the Donmar Warehouse theatre. I thought that, once the rehearsal process was over, I could look after Orla by day and Ryan could have her at night - which is fine until you realise you're not getting to bed until midnight and she's waking up at 6am. In theory, it was great, but then I was absolutely knackered!"
So, do you view your acting career any different now you're a mother?
"Orla's number one in my life, but I still think you can have it all. All my friends have gone back to work after a year when they've had their children - but whereas they'll go back for three days every week, I might be away from Orla completely one week, then with her for the whole of the following week. It's just about balance really."
Having been away for series three of Mr Selfridge, what made you so keen to reprise your role as Mae this series?
"Mae's such a delicious part to play – she's a bit of a goodie and a bit of a baddie, she's unpredictable and you never quite know where her morals lie. And she's moving with the times – she's so different from where she started to what you'll see this series."
Does Mae still get to wear fabulous clothes?
"Mae starts up a new ready-to-wear clothing line in Selfridges. Mae's got amazing style because she's been living in Paris so, when she comes back, she's still got good clothes… just on a bit more of a budget!"
We've seen Mae's vulnerable side in the past – is she more confident this series?
"Well, she wasn't broken hearted or beaten up by her latest husband, Monsieur Renard, so she isn't quite the 'damaged goods' she was in series two. Although she's getting divorced, it doesn't take her long to get back on her feet and Harry really encourages that."
What's the relationship like between Mae and Harry Selfridge this series?
"Mae and Harry are as close as can be - she wouldn't be where she is without him, and vice versa. They have a great love for each other and they're actually very similar in many ways."
Did you enjoy reuniting with Jeremy Piven, who plays Harry?
"Oh yes, Jeremy and I get on really well. Also, Jeremy loves sport and my husband is a stereotypical Australian who's obsessed with sport, so they hang out together and talk about baseball and boxing!"
In this week's second episode, Mae hosts a fashion show at Selfridges to showcase her new clothing line, and Harry insists her dresses should be modelled by The Dolly Sisters – the flirty showgirls who made their debut in Mr Selfridge last week. What does Mae make of the twins?
"Mae was a showgirl just like The Dolly Sisters once, but she's a bit jaded by them; she's seen it all before and thinks they're nothing original. At the same time, Mae knows Harry's still grieving for his late wife Rose and that he needs to have some fun."
Later, Mae visits Jimmy Dillon (Sacha Dhawan), the playboy entrepreneur we also met last week. Has Mae set her sights on husband number three?
"Mae doesn't mess about; she gets straight in there. In a way, Mae's just as bad as Harry for having an eye for younger lovers, though fortunately she's not as easily led as he is."
Have you brought Orla onto the Mr Selfridge set at all?
"Not yet. She's not a delicate little flower my daughter – she's at that stage where she'll be pulling everything off, so I have to pick the location carefully or she'll just cause destruction. Sam West, who plays Frank Edwards in the show, his little girl is two months younger than Orla, so we're definitely going to arrange a playdate."
Are you still in touch with any of your former Corrie castmates?
"I had a first birthday party for Orla last March and Jennie McAlpine and Paula Lane, who were also on maternity leave, came to Orla's little party. Ryan Thomas came as well - he's just a big kid. So, yes, I do still see them – not a week goes by when I don't speak to one of them."
Get the latest updates, reviews and unmissable series to watch and more!
Thank you for signing up to Whattowatch. You will receive a verification email shortly.
There was a problem. Please refresh the page and try again.