Mr Selfridge's Aisling Loftus: 'Agnes isn't mature enough to handle Henri's damage'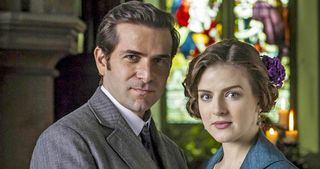 (Image credit: Patrick Redmond +353872600976)
As he continues to be plagued by flashbacks of his time at war, Henri's torment is driving a wedge between him and new wife Agnes, as Mr Selfridge star Aisling Loftus reveals…
So, after taking so long to get together, Agnes and Henri tied the knot at the start of this series. Why did they want to get married so quickly?
"When Henri came back from fighting in the war in France, he and Agnes were really giddy to see each other. They'd been apart for so long, so I completely understand why they wanted to hurry to get married."
Something's clearly troubling Henri though and, this week, Agnes is determined to find out what's wrong…
"Agnes doesn't see the damage initially because she's just so loved up and happy that Henri's come back. As far as she's concerned, Agnes is trying to be a good wife to Henri, but she doesn't believe he has that same feeling of duty to her."
Can she understand what Henri might have gone through while at war?
"Not at all. Agnes has been at Selfridges while Henri's been at war, so she hasn't witnessed the things he has. Their lives have taken different paths."
It's Agnes's ex-fiance Victor who fills her in on some of the tragedies Henri may have seen at war. But Henri still refuses to talk to Agnes about it – could their marriage be in trouble?
"Agnes isn't mature enough to handle someone who's experienced such awful tragedies. But Agnes and Henri got married because they're so in love, so hopefully they can readjust."
What do you think makes Henri and Agnes a good couple?
"I think the reason they're drawn to each other is because they're both creative and both on the same wavelength. But I'm always very aware that a lot of viewers must think: 'Would that happen in real life?' Could Agnes really do that well?'"
Mr Selfridge continues on Sundays at 9pm on ITV.
Get the latest updates, reviews and unmissable series to watch and more!
Thank you for signing up to Whattowatch. You will receive a verification email shortly.
There was a problem. Please refresh the page and try again.