Dr Blake star Craig McLachlan: 'I think it's lovely people still want to talk to me about Henry and Neighbours'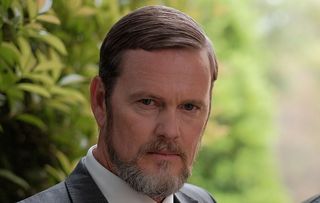 (Image credit: BBC/December Media/ABC)
Former Neighbours actor Craig McLachlan talks about new period crime drama The Dr Blake Mysteries and reminisces about his '80s soap heyday...
Craig McLachlan is arguably best known for playing Henry Ramsay in Neighbours in the 1980s. As the actor returns to our screens in series four of The Dr Blake Mysteries, he talks about playing a police surgeon and reveals what life was really like on Ramsay Street…
For UK viewers who might not know, who is Dr Lucien Blake? "Dr Lucien Blake is a GP and police surgeon working in the small town of Ballarat in Australia in the 1950s, who gets called in to investigate suspicious deaths. Lucien often finds himself battling with the actual police, who want to wrap a case up quickly, so they can all get off home. That's not Lucien – he's really sticks with something until he comes to the right and truthful conclusion. He's a very driven and determined guy."
What can you tell me about the first investigation in series four, starting on BBC1 on Monday, December 5? "The story centres on a mysterious death at a prestigious car rally. Lucien discovers there were great partnerships among the drivers that are suddenly no more, that this top-notch mechanic who has died had been working for a rival team and that these races now pay big money, so he's set on a trail of jealousy and greed."
Do you like racing or classic cars yourself? "I do and we have some absolute beauties on The Dr Blake Mysteries. Those vintage vehicles become stars of the show in their own right – for years the 'Blakemobile' got more fan mail than either me or Nadine, who plays Lucien's housekeeper Jean, it's hysterical. I've never been jealous of a car before!"
Speaking of Jean, what's their relationship like in series four? "Well, fans of the show will know that Lucien loves this woman and has loved her for a while, but at the end of series three it looked like it was all over for them as she got on the bus to return to her family in Adelaide. But in true Hollywood fashion the bus then stopped, and the good doctor got on, sat with her and they hugged."
Can we expect wedding bells for Lucien and Jean in series four? "I once had a shopkeeper threaten to withhold my groceries until I told him whether Lucien and Jean were going to get married! What I can tell you is that Lucian does finally get his act together this series to make a very positive step in that direction. But, as always, things never go smoothly!"
You have a magnificent beard as Lucien – is it all your own? And is it hard work to maintain? "I'm proud to say the beard is all mine, it just takes me a while to grow. To arrive at Lucien's beard in 2016, I have to start growing it in 1973!"
You look very different these days to the role many people will know you best for, playing Henry Ramsay in Neighbours during the late '80s… "What's really interesting is that that '80s 'Henry-Scott-Charlene' period cast a pretty big shadow here in Australia. It's not like how it was in England where that period of the show was really loved. So if you were part of the golden 'Kylie and Jason' era, which I was, the TV industry in Australia couldn't see you as anything else.
"Now, all these years down the track, people see me as Lucien with all this grey hair and doing something completely different. The loyalty and devotion fans in Australia have for Dr Blake is unreal. I'm so grateful and thankful."
Look at those curls! Craig as Neighbours' mechanic Henry Ramsay (pic: Rex Features)
Do people still ask you about Neighbours? "In recent years they have because Neighbours celebrated it's 30th anniversary last year. We get lots of visitors from the UK and, while they like to visit Ramsay Street, they're now throwing Ballarat into their itinerary, so I'll meet a bunch of folk from Hull or Southampton. But whenever I'm chatting to friends from the UK, you can't really be chatting to 'Craig' and not ask about Henry and Charlene!"
Do you mind that? "No, I've never had an issue with it. I know that some actors who come out of long-running dramas or soaps have a real issue with it, but Neighbours was such a lovely time in my life. Kylie, Jason and I joined the show in 1986 and, as the years have rolled on, people still come up wanting to talk to me about Henry Ramsay. I think it's lovely."
Craig as Henry with his on-screen sister Charlene, played by Kylie Minogue (pic: Rex Features)
So you have fond memories of working on Neighbours back in the day? "Yeah, it was a fantastic time. For us youngsters, especially for me just starting out, it was just brilliant. It's one thing to get a break in a show that's doing well in Australia, but there was real excitement as it kicked off around the world, particularly in the UK. The BBC would call us up and say, we've just had word from Buckingham Palace – the Queen Mother loves the show!"
Do you still watch Neighbours? "I tuned in last year because I contributed to the TV special for the 30th anniversary. They were very keen for Henry to make an appearance in an episode, but we were in the middle of shooting Dr Blake, so it was impossible. So I suggested doing an interview on a weekend.
"Unbeknownst to the producers of the TV special, however, I had sourced an identical pair of overalls that Henry used to wear and, halfway through the interview I said: 'I'm actually feeling a bit uncomfortable, can you just bear with me'. I went out, stripped my suit off and put the overalls on, shirtless of course, walked back in and said: 'NOW I feel better'. The crew were just in hysterics. It was a very funny day."
Who could forget those overalls? (pic: Rex Features)
You also had a stab at the pop charts in the early '90s, and had a Top 10 hit in the UK with the song Mona . Are you still involved in music? "Yeah. My rockstar/popstar days are a long way behind me – I'm not a young man any more, but I still write and compose stuff for film and television, so I'm playing all the time.
"We were lucky back in the mad Mona days - it was pre-internet, at the tail-end of vinyl and CDs were still relatively new and exciting. So when you had a Top 10 hit in those days you were really flogging a lot of records. We used to come over the UK and do promo tours for the single and I remember doing a BBC Radio 1 roadshow in Wales playing to about 40,000 people. It was a good time."
For a bit of nostalgia, here's THAT Mona video:
https://youtu.be/3yLA6OWMeeo
The Dr Blake Mysteries screens Monday to Friday at 2.15pm on BBC1.
Get the latest updates, reviews and unmissable series to watch and more!
Thank you for signing up to Whattowatch. You will receive a verification email shortly.
There was a problem. Please refresh the page and try again.