Ramsay Street's first gay wedding? Neighbours star Takaya Honda reveals all!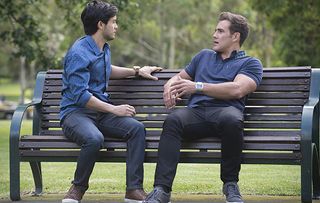 Neighbours' Takaya Honda reveals why David and Aaron fans will be 'ecstatic' about the couple's latest relationship twist.
Neighbours actor Takaya Honda has revealed to Soaplife that David Tanaka and Aaron Brennan's romance may finally be back on and he couldn't be happier…
What's the story?
Although David Tanaka enjoyed a brief encounter with Rafael Humphrey, Aaron Brennan is the only guy ever to have captured his heart. Their relationship broke down when Aaron was manipulated by his ex, but there could be good news on the way for 'Daaronites'...
"I don't think David has ever stopped being in love with Aaron," actor Takaya Honda told Soaplife.
"He was his first real love and I don't think anyone can turn that tap off very easily, but where it goes to from now really depends on what David wants and whether Aaron still fits that…"
What's happening in Neighbours? See the latest soap storylines
Takaya Honda's interview with Soaplife
Soaplife: What's Aaron and David's relationship like now?
Takaya Honda: "There's care and respect between them. But it really depends whether what happened with Rory is still too hurtful for David to deal with. Being with Raf taught David how to take the lead in the relationship, so he can have his wants and needs met, rather than always being the submissive partner."
S: It turns out David and Aaron are competing against each other in the 'Face of Lassiters' competition. What are David's feelings about this?
TH: "At first, he's bemused and it feels a bit like they're being forced together by other people who have their own motives. Then Aaron insists on telling David, in no uncertain terms, they belong together."
S: How does David react?
TH: "It gives him a good feeling, but there's also trepidation, as he doesn't want history to repeat itself and for the relationship to be like it was before. He feels he's grown and for 'Daaron' to succeed, the relationship would have to grow, too. But the spark is definitely still there for him."
S: What happens next?
TH: "David finds himself buying Tyler's chair for Aaron. This act shows just what kind of person he is. Aaron sees the chair as symbolic for David's feelings so he questions him about its meaning and they end up kissing passionately. David finally realises how he feels. He can't deny it any more, especially with Aaron standing right in front of him."
S: So, is this it? Are they back on track?
TH: "Both David and Aaron are still finding their way. I'm sure the future holds lots more twists and turns for them, but he definitely feels like he's grown. Hopefully this will make a difference!"
TH: "Could we be talking Ramsay Street's first gay wedding?
"That would be amazing but David isn't someone who'd want to rush anything. Let them just be together again first."
S: Will the fans be happy they're back together?
TH: "Ecstatic! I get so many messages asking me whether they will or not! I'm happy, too. I love working with Matty Wilson, who plays Aaron. I'm really excited to see what happens next!"
Neighbours continues on C5 later today
Get the latest updates, reviews and unmissable series to watch and more!
Thank you for signing up to Whattowatch. You will receive a verification email shortly.
There was a problem. Please refresh the page and try again.