Neighbours' Olympia Valance was playing the fear for real when she was trapped with a giant spider!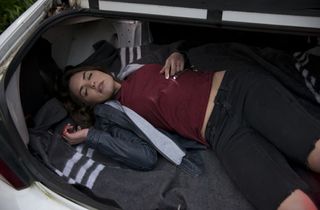 As Neighbours reaches its Christmas cliffhanger on Channel 5 next Friday (December 18), Paige (Olympia Valance) is in a whole lot of trouble when she gets mixed-up with bad girl, Michelle, again.
We chatted to Olympia about the perils of Paige, her run-in with a giant spider and which of the hunky Brennan brothers she believes her character belongs with!
How does Paige feel about bad girl Michelle being back? She was a whole lot of trouble last time!

"Paige is very wary of Michelle in the beginning, but she starts to get sucked in by Michelle's lies. Paige can be a bit gullible sometimes. Because of all this, she gets caught up in a bunch of things. She gets hit over the head and put in the trunk of a car and taken away!"
Yikes! What was it like filming Paige's kidnapping?
"When we were filming the scene where Paige is in the back of the car, it was all dark. But I had a flashlight in my hand and I was pointing it around the car and saw the biggest huntsman spider was crawling on my leg! In the scene I was screaming, 'Get me out of the car! Get me out of the car!' and they thought I was acting. It took them about five minutes to realise what was going on...
"I wanted out of that car!"
Yuck! How are you with creepy crawlies?
"Normally I'm quite good. I just don't like them on me. They are big, hairy and scary!"
This year, Paige has been caught in a love triangle with the Brennan brothers, Mark and Tyler. Who do you think she belongs with?
" I think Paige will always be in love with Mark. A lot of people are saying Tyler and Paige should be together. But I think that's bull, no one wants to be with someone just like themselves. I think Paige and Mark are a perfect fit. He brings a bit of order to her chaotic life and she gives him a bit of fun. Fans on social media are very 50/50 as to who Paige should be with. But I know who Paige wants - she wants Mark."
Would you like to have a big soap wedding?
"Who doesn't want a wedding! It would be so fun. You get to put on a big dress, and it's all about you for the day. So hopefully that's on the cards."
Christmas is coming! What are you up to on your break from Neighbours?
"I can't wait! I'm doing nothing apart from I'm going away for New Year's to a place called Byron Bay in New South Wales with some of the cast including Ariel Kaplan (Imogen) and Harley Bonner (Josh)."
CLICK to see photos of Paige's abduction.
*Watch Neighbours on Channel 5, weekdays at 1.35pm and 6.00pm. The season finale airs on Friday, December 18. Neighbours returns on Monday, January 4. For the first time ever, the nation's favourite Australian soap will broadcast on the same day in both the UK and Oz!
Get the latest updates, reviews and unmissable series to watch and more!
Thank you for signing up to Whattowatch. You will receive a verification email shortly.
There was a problem. Please refresh the page and try again.