17-year-old Louisa Johnson wins The X Factor 2015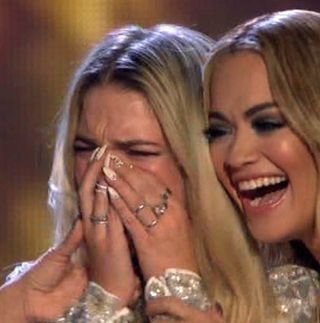 The X Factor final was a contest between power ballad singer Louisa Johnson (opens in new tab), from Essex and Ghanaian rappers Reggie N Bollie (opens in new tab).
And it was Louisa who, at 17, became the youngest winner ever of the contest - and a recording contract.
"I'm so proud of Louisa," said her mentor Rita Ora (opens in new tab), ahead of the show. "There are only two people who have made this impression on X Factor and that's Leona Lewis (opens in new tab) and Louisa."
Louisa is congratulated by her mentor Rita Ora
"Whatever the outcome, you are my winners," Cheryl Fernandez-Versini (opens in new tab) told her finalists Reggie, 31, and Bollie, 29.
The show opened with all 12 finalists on the stage together to sing their version of the Petula Clark classic "Downton".
Then out came Coldplay (opens in new tab), to warm up the audience before the contest properly began.
They sang "Adventure of a Lifetime" while dancers dressed as apes bounced around the stage.
The contest started with Reggie N Bollie singing their version of One Direction (opens in new tab)'s "What Makes You Beautiful", their song of the series.
"You've stepped up a gear tonight," Simon Cowell (opens in new tab) told them.
Then it was Louisa's turn with her song of the series, "It's A Man's World".
"That is what I call the X Factor," Simon told her. "I know I'm prone to exaggeration but I have never heard anything as good as what you just did in all the years I've done this show."
Simon congratulates emotional winner Louisa
While Louisa and Reggie N Bollie got ready for their next songs, the audience was entertained by One Direction, singing "Infinity" and "History".
Next up, the two finalists sang the winner's single, the Bob Dylan classic "Forever Young".
Reggie N Bollie gave the song a gospel choir treatment, with a bit of rap.
"We're just family men trying to change our lives," they said, as they were joined onstage by their children.
"I love you, good luck," said Cheryl.
Louisa's version of the winner's single was more traditional and soulful.
"You owned tonight, Louisa. You brought so much passion and talent and turn a good song into a great song. I believe we're witnessing the birth of a star," Simon told her.
"No matter what happens you're a superstar," Rita told her.
While the boys in the backroom were counting all the votes, out came Adele (opens in new tab) to sing her hit single "Hello", the fastest selling download ever.
"I've honestly been waiting half my life to do this, it's such an honour to be here. I feel like I'm being judged! They [the judges] are so close! I couldn't look them in the eye while I was singing.
"I always love the show. Lauren was my favourite but I think Louisa will win."
And she did.
Get the latest updates, reviews and unmissable series to watch and more!
Thank you for signing up to Whattowatch. You will receive a verification email shortly.
There was a problem. Please refresh the page and try again.