7 UNMISSABLE TV shows coming up this week!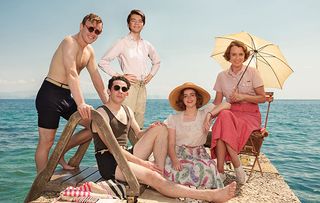 (Image credit: ITV)
It's a cracking telly week - make sure you don't miss any of these shows!
Here we preview 7 of the best TV shows on this week...
1. The Durrells, ITV, Sunday, 8pm – NEW SERIES!
The Durells is back for a final trip to sunny Corfu. So, will Louisa (played by Keeley Hawes) and Spiro ever get together? Well, the new series opens with Louisa and Spiro barely speaking and to distract herself from her love life she opens the house as a B & B. Meanwhile, Larry is still grumpy, Leslie misses Daphne and Gerry has an owl!
2. Line of Duty, BBC1, Sunday, 9pm
Wow, after last week's cracking opener, the big questions are what's going on with John Corbett (Stephen Graham), is Hastings really "H" and why can't Hastings afford a better hotel?! On that front, Hastings meets up with his ex wife, while Steve places himself in massive danger…
3. The Victim, BBC1, Monday, 9pm – New Series
John Hannah and Kelly Macdonald star in this thriller, which is being screened over four consecutive nights. Anna (Kelly Macdonald) has never recovered from her young son being murdered and the fact that the murderer, who was a child, was given a new identity. Now, D. I. Grover (John Hannah) suspects Anna has attacked the killer, but did she? And is Craig - the person who's been attacked - the killer of Anna's son or is it a case of mistaken identity?
4. The Widow, ITV, Monday, 9pm – NEW Series
This new drama is from the writers of Baptiste and The Missing. Kate Beckinsale stars as Georgina, a widow who suddenly thinks her husband might be alive when she thinks she sees news footage of him in Africa. So, she heads off to Africa for answers… could her husband really been alive? And, if so, why did he fake his own death?
5. Hard to Please OAPs, ITV, Tuesday, 8.30pm – NEW Series
June Brown is great at playing Dot in EastEnders, but less good when it comes to using the latest gadgets! Here in this new six-part series June joins a host of other star pensioners, including actress Amanda Barrie and I'm A Celebrity winner Harry Redknapp, to try out a string of new gadgets. How will they get on?
6. Surgeons: At The Edge of Life, BBC2, Tuesday, 9pm – New series
Most of us will have an operation at some point, but what happens when you go under the knife? Well, if you'd rather not know, best avoid this documentary which goes behind the doors of the operating theatres of the Queen Elizabeth Hospital in Birmingham. First up is brain surgery!
7. Naked Beach, C4, 8pm, Thursday – New Series
Lots of people aren't happy with their own bodies, so this show has come up with an ingenious way to help! Each episode sees three people head off to Greece and spend four days surrounded by eight naked people, who all have very different body shapes and are happy with how they look. So, will the three volunteers feel more reassured about their own bodies and strip off too?
Get the latest updates, reviews and unmissable series to watch and more!
Thank you for signing up to Whattowatch. You will receive a verification email shortly.
There was a problem. Please refresh the page and try again.