Alison Brie had to audition FOUR times for her lead role in GLOW: 'They didn't even want to see me'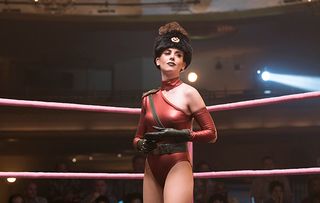 GLOW is the new Netflix series that dives into the wacky world of female wrestling in the 1980s. But it wasn't all sequins and Spandex as star Alison Brie reveals
Former Mad Men star Alison Brie plays a down-on-her-luck actress who just can't get a break in new Netflix series GLOW. In a case of life imitating art, it took Alison four auditions before she convinced producers she was just right for the role of Ruth Wilder.
Ruth is a woman with desperate ambitions to be an actress who is thrust into the world of female wrestling in an attempt to make her dreams a reality.
Alison revealed that much like her character Ruth, she was forced to show perseverance when auditioning for the role.
Alison said: "It was the ultimate irony of pilot season last year. I have never been offered so many pilots in my life, it was very exciting, and the one show I wanted to do, they didn't think I was right for, they didn't even want to see me for it."
GLOW is based on the '80s show the Gorgeous Ladies Of Wrestling. The modern adaptation has been created and produced by the creative minds behind Orange Is The New Black (Jenji Kohan) and HomeLand (Liv Flahive).
Alison said she thinks it was her willingness to come in for casting over and over again that finally persuaded the producers. When asked why she wanted the role so much, she replied: "I was really interested in shattering the preconceived notions that they must have had of me."
Alison said the script was also really interesting and reminded her a lot of Mad Men, in which she played Pete Campbell's man's wife Trudy Vogel.
When she was finally cast in GLOW, Alison said it made her feel like her character Ruth. She said she thinks Ruth feels underestimated and that she is constantly trying to prove to people that she is capable of more.
Alison said the role 'genuinely checked every box on the imaginary list of what kind of show I wanted to sign on to'.
She added: "It is the role of a lifetime."
Who does Alison Brie play in GLOW?
Alison's character is called Ruth Wilder, but her wrestling persona is 'Zoya the Destroya'. Ruth is an actress that takes her work very seriously, but is constantly overlooked.
She is thrust into the world of female wrestling for one last stab at fame.
Alison said: "When we meet her in the first episode, she's sort of at the end of the line; she can't pay her bills, and she's just having a hard time. So when she gets this opportunity to audition for this crazy show, it actually becomes something really exciting for her, and she really goes for it."
Find out everything you need to know about Glow here
GLOW is available to watch on Netflix now. There are ten 30-minute episodes. A second series has not yet been announced.
Get the latest updates, reviews and unmissable series to watch and more!
Thank you for signing up to Whattowatch. You will receive a verification email shortly.
There was a problem. Please refresh the page and try again.