Anna Richardson reveals 'secret eater' moment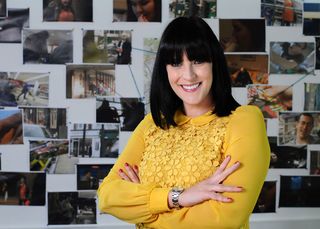 Secret Eaters presenter Anna Richardson has confessed to facing her own unpleasant encounter with the scales while filming one of her diet shows for Channel 4.
The 42-year-old, who has also hosted You Are What You Eat, was working on the show Supersize vs Superskinny when she discovered the truth about her weight.
"I was filmed doing all these diets and I had to get on some scales for the first time in seven years," she said.
I had my own Secret Eaters (opens in new tab) moment where I was faced with the fact I was a damn sight heavier than I thought I was."
Anna and her team are returning to Channel 4 on March 28 for a second series of Secret Eaters, which tackles overweight people who often don't realise how much they are eating.
And she said she is constantly fascinated by the reasons those featured give for their weight problems.
"The only reason anyone's overweight is because they take in too many calories, end of story," she explained. "What I find fascinating is the level of their self-delusion, and I've been there myself because I'm a dieter, and I've struggled with my weight and thought, 'It's not my fault'."
However she added the show was not out to humiliate people, despite taking a light-hearted approach to its hidden camera footage of subjects tucking in.
"No one wants to laugh at overweight people because it's a huge issue, it's an epidemic in this country," Anna said. "I've been overweight myself and still struggle with my weight, so I hope the tone is absolutely bang on, which is 'Listen - I'm not a skinny person looking at you and thinking you're just a fat slob'."
"I'm looking at them going, 'I've been there, I understand this is difficult. We are here to affect change for you. We're on your side'."
Get the What to Watch Newsletter
The latest updates, reviews and unmissable series to watch and more!