Axed Apprentice Alex reveals eyebrows are real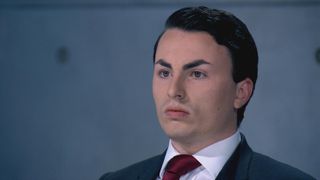 The Apprentice hopeful Alex Mills told how TV's most talked-about eyebrows were all natural after he became the latest contestant to be trimmed from the show.
Viewers have been bewitched by Alex's preened brows throughout the latest series of the BBC One show.
And after getting fired in Wednesday night's edition of The Apprentice, he insisted he had not styled them that way.
"What people fail to grasp is that these are actually the natural shape of my eyebrows," he said.
"Obviously you get the spidery hairs which are ripped off every two weeks or whatever, but no, this is the angle of them. I suppose I can't help it really."
The Welsh company director carried the can for his team Endeavour's failure in a ready-meal challenge, but he blamed their disaster on colleague Myles Mordaunt's idea for serving horror-themed Deadly Dinners, which had repulsed parents.
Alex had wanted to create a kids' ready meal range called Poppety-ping - named after a colloquial Welsh term for a microwave oven - based on international dishes, but he was browbeaten by Myles to go with a pretend blood-and-guts style brand instead.
The fired candidate said it was right that he should have gone, but said he should have stuck to his original plan. "I totally agree with Lord Sugar's decision... If I had stuck to my guns I'm fairly sure that we would have won," he said.
Child taste-testers had loved the horror theme, but the skull and crossbones logo with its tagline 'healthy horrible food' left a bad taste in the mouths of parents and supermarket bosses.
Rival team Evolve, led by Neil Clough, made the biggest impact with their Oh My Pow brand, which fused world cuisines.
Get the latest updates, reviews and unmissable series to watch and more!
Thank you for signing up to Whattowatch. You will receive a verification email shortly.
There was a problem. Please refresh the page and try again.