BBC Breakfast's Naga Munchetty condemns 'idiots' behind racist and sexist tweets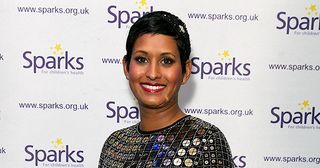 (Image credit: JABPromotions/REX/Shutterstock)
Journalist and BBC Breakfast presenter Naga Munchetty has responded after she was trolled on Twitter
BBC Breakfast presenter Naga Munchetty has hit back at 'idiots' who send her racist and sexist messages on Twitter.
The 41-year-old said she took on board valid criticism of her work, but refused to be upset by Twitter users who launched personal attacks saying she had only been hired for 'political correctness' reasons.
Naga, who presents the Breakfast show three days a week, told The Mirror: "I'm on telly, I'm in your home, so if you want to criticise me, fine. I've put myself there and can't complain that someone has an opinion about me.
"But I'm not there to be abused. Nobody is there to be abused."
She said she would review her performance if she was criticised for an interview, but dismissed those who called her a 'BBC race card' or said she had been 'employed for PC reasons rather than capability', as a recent tweet did.
Not taking the abuse lying down, she replied to that troll: "Thanks for that – what a valuable contributor to Twitter you are. x"
She explained: "Racist and sexist stuff, I just think, 'You're an idiot'.
"I'm not going to go home going, 'I'm so upset someone's called me a racist word', or said I'm a woman, I can't do a job."
"They're idiots. You can't waste your energy on idiots."
Naga, who co-anchors BBC Breakfast alongside Louise Minchin, Dan Walker and Charlie Stayt, also addressed the controversy over who takes the most senior position on the sofa.
Producers came under fire for seating the less-experienced Dan rather than Louise on the viewer's left when he joined the show in February, which is considered the prime spot.
But she said that 'none of the presenters care' which side they are on, and Dan was given the spot to help camera angles.
Get the latest updates, reviews and unmissable series to watch and more!
Thank you for signing up to Whattowatch. You will receive a verification email shortly.
There was a problem. Please refresh the page and try again.