Bear Grylls and Zac Efron feast on earthworms!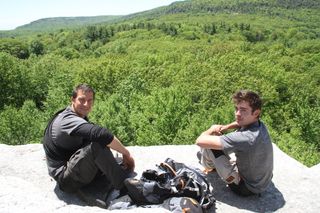 (Image credit: Duncan Gaudin/NBC)
Action man, Bear Grylls is back with a new TV series, Running Wild With Bear Grylls, which sees the former SAS survivalist pushing Hollywood stars including Zac Efron, Ben Stiller and Channing Tatum to their limits on outdoor adventures.
During his adventure with one-time High School Musical star, Zac, the pair parachute into the Catskill Mountains area of New York state, trek through the remote forest, abseil down cliffs, cross foaming rivers...and feast on earthworms and pigeon-egg omelette!
"We had no food, so we dug down, pulled out a handful of worms," reveals Bear. "I found four pigeon eggs, we had a worm omelette, looked like death, and Zac had this huge grin. He was so excited to be eating a worm omelette. We munch it down. He says, 'Normally on the movie set someone brings a steak and if it's not flambed enough it's sent back. I don't care how these worms taste. I love it. This is what I wanted to do as a kid'."
Running Wild With Bear Grylls is on Wednesday 14 January, Discovery (9.00pm)
Get the latest updates, reviews and unmissable series to watch and more!
Thank you for signing up to Whattowatch. You will receive a verification email shortly.
There was a problem. Please refresh the page and try again.