Ben Fogle: 'Losing our dog has made my family's whole world tip a bit'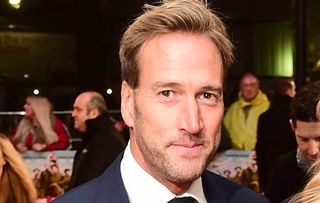 (Image credit: PA Archive/PA Images)
Ben Fogle is presenting Animal Park on BBC1 this week, but he says his family's life has been overshadowed by the recent loss of a beloved pet
Ben Fogle is one of several celebs who roam a seaside trail with a canine companion in More4's new series Coastal Walks With My Dogs. The 42-year-old presenter is also fronting a new series on ITV, Britain's Whales/Britain's Sharks.
Her,e Ben talks to TV Times about taking his beloved black labrador Storm on his More4 trek and his recent sadness at having to have his other dog, 15-year lab/collie cross Maggi, put to sleep...
So Ben can you tell us what happened to Maggi? "She was very elderly and losing her made my family's whole world tip a bit. I have had so many dogs over the years and the hardest thing about having them is knowing there will be a point when they'll pass on because their life-span is so much shorter than ours. It's horrid, it's so awful."
How have your two young children – Ludo, six and Iona, four – taken Maggi's loss? "I think children take things in their stride and maybe the older you get, the more sentimental you become. It reminds me that it's important to savour every minute of walks like the one I did with Storm for Coastal Walks with My Dog. We've had her since she was a puppy and she's part of the furniture now."
Did you enjoy your walk with Storm along the Llyn Peninsula, in north-west Wales? "Nothing gives me more pleasure than being in a wilderness and Wales is such a beautiful part of the world. I still live in London and the main reason for that is because my wife has her business there and the children have all their friends nearby. So doing what I do is kind of the best of both worlds."
Can you tell us about ITV's Britain's Whales/Britain's Sharks, which screens on Good Friday? "It's a two-parter with Ellie Harrison in which we look at how dead whales are an important part of the marine food chain, feeding up to a million mouths. That was an extraordinary show to work on. To be dragging a whale carcass around UK waters one week in search of sharks, and then travelling to East Asia the next, well, that's normality for me and it does make me smile sometimes."
What's next for you? "This year I'm doing quite a few things I've never done before. I'm off to Mongolia next week and then to Bhutan for Channel 5's New Lives in the Wild. They're two places I've always wanted to go."
Watch Ben Fogle present Animal Park Easter Special all week on BBC1 daytime
Get the latest updates, reviews and unmissable series to watch and more!
Thank you for signing up to Whattowatch. You will receive a verification email shortly.
There was a problem. Please refresh the page and try again.