Billy Connolly: Dancing naked in the Orkneys was the strangest thing I've done on my travels!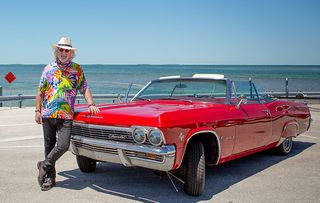 The Big Yin shares his thoughts on shoes, hecklers and 'beige showbiz people' as he looks back on his life, career and globe-trotting travels
It's nearly 25 years since Billy Connolly invited viewers to join him on the first of his 'World Tour' travelogues – which was a trip around his native Scotland. To mark this milestone, Billy's latest TV excursion takes us on a tour of Florida – his new home – with clips from previous globetrotting exploits, from dancing naked in the Orkneys to gazing in wonder at the Grand Canyon.
TV Times caught up with Sir Billy Connolly to take a nostalgic look back on his life, career and travels…
TV Times: What do you like about living in Florida?
Billy Connolly: "I like the weather, and the fact that nobody knows me. I get a degree of anonymity that really appeals to me and makes my life simpler."
TVT: How has all this travel changed you?
BC: "Travel makes me miss my shoes. When you're packing, the shoes suffer because they're big and heavy. So you find yourself missing shoes. And my travel essential is cotton underwear – never wear anything else or it's torture!"
TVT: Would you alter anything about your career?
BC: "No. It's been a splendid career. It never came down or levelled off, it just kept climbing. Appearing on Michael Parkinson's chat show was enormous. And working in America catapulted me into big-ness. But they had difficulty understanding my accent!"
TVT: What was your first impression of your wife, Pamela Stephenson?
BC: "I first met her at a Not the Nine O'Clock News rehearsal in London. They opened the door and she came flying past on a food trolley in a Superman position! I thought: 'I like you…'"
TVT: Has she had a big impact on your outlook on life?
BC: "Absolutely enormous. The first thing she said was: 'Don't talk so much at dinner. Give the rest of the people a chance!'"
TVT: What's been the strangest activity on your travels?
BC: "Dancing naked in the Orkneys – it was a bit chilly and nerve-wracking. It's not so much being naked, as being the only person naked!"
TVT: Are people are as important as places in your travelogues?
BC: "The people can be the life and soul of them. The trick is to listen. I'm not in the business of doing interviews – I just want to talk and share a minute or two of their day."
TVT: Are different things are expected of you as you get older?
BC: "I've never bothered with what's expected of me. If you do, you become one of those beige showbiz people. All this: 'It's such a joy to be among you all…' – what nonsense!"
TVT: Who would you invite to your dream dinner party?
BC: "Jesus and Bob Dylan."
TVT: Do you have lots of souvenirs?
BC: "I have thousands. I go to place them in the living room and my wife says: That's beautiful – it would look good in your room!' So I've got a room full of rubbish."
TVT: How much of your stand-up is ad-libbed?
BC: "About 10% of is brand new. The rest I would be hanging on to by the skin of my teeth, trying to remember it."
TVT: How do you feel about people shouting out during gigs?
BC: "I've always found hecklers to be cowards, sitting in the dark shouting. It bothers me because, if you're doing your act right, you speak to the audience and they become one. But when a person shouts, they become lots of individuals again. Also, I've been at concerts with rotten singers, and nobody's said a word!"
Billy Connolly's Ultimate World Tour is on ITV, Thursday 13 Dec, 9pm.
Get the What to Watch Newsletter
The latest updates, reviews and unmissable series to watch and more!
Ian writes about TV and film for TV Times, What's on TV and TV & Satellite Week magazines. He co-hosts the weekly TV streaming podcast, Bingewatch.