Billy Connolly 'nearly broke neck' taking a shower on a train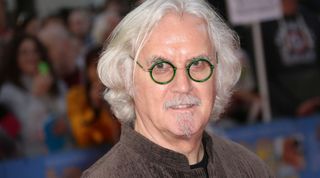 Comedian and actor Billy Connolly has a message for fellow Parkinson's disease sufferers: don't try showering on a train.
The 73-year-old managed to keep a sense of humour as he talked about a difficult experience while filming his new travel show.
Billy Connolly at the Baftas (Ian West/PA)
The programme, which screens on Friday night, sees him travel through the US by train in Billy Connolly's Tracks Across America.
But he explained: "I tried to take a shower, I thought I must take a shower on a train. But I nearly broke my bloody neck. I was trundling along and skidding around."
According to The Mirror, he warned: "As you probably know, I've got Parkinson's disease. People with Parkinson's disease should not have showers on trains.
Don't miss out! Watch the premiere of Billy Connolly's Tracks Across America – it's awesome https://t.co/Va2XOsERgk pic.twitter.com/lPglGQceI1
— The ITV Hub (@itvhub) March 31, 2016
"In much the same way as Vietnam veterans shouldn't go to firework displays in swamps."
Earlier this week, Billy's wife Pamela Stephenson said the diagnosis had been a 'shock'.
The progressive disease affects movement – causing shaking and difficulty with walking – as well as thinking and behavioural problems. Billy revealed in 2013 that he had been diagnosed with the condition.
Billy Connolly and Pamela Stephenson (Sylvain Gaboury/AP)
Writing in Woman & Home magazine, Pamela said: "To say Billy's diagnosis of Parkinson's was a shock is an understatement. No one in our family really knew what it meant.
"To be honest, we still don't – because people seem to have idiosyncratic responses to the disease, and its course cannot be accurately predicted.
"This must be one of the most difficult challenges.
"There is no doubt he has been shaken psychologically by the idea of having a creeping disease for which there is no cure."
Billy Connolly won a National Television Award in January 2016 (Ian West/PA)
However, she remained optimistic, writing: "Physically we had seen very little change in him, although there were certain small signs.
"Unless I'd been told it was a Parkinson's effect, I wouldn't have noticed that he blinked less. Even now, I rarely notice his hand shaking."
She said her husband was training hard at the gym, doing vocal exercises, and was 'as funny as he's ever been'.
Get the latest updates, reviews and unmissable series to watch and more!
Thank you for signing up to Whattowatch. You will receive a verification email shortly.
There was a problem. Please refresh the page and try again.