The Birds of a Feather fly south for Christmas!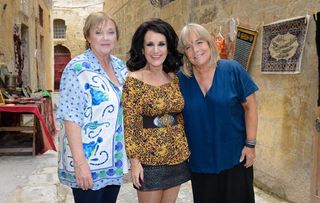 Pauline Quirke, Linda Robson and Lesley Joseph on taking their hit sitcom abroad this Christmas for the first time in 18 years
The promise of the Birds of a Feather team flying off to far-flung climes for their Christmas special became a regular highlight of the season during the 1990s.
Destinations included Berlin (1990), Hollywood (1993) and a trip to Ireland on Christmas Eve 1998, which marked the end of the show's time on BBC1. The sitcom, of course, returned in a new nest on ITV in January 2014.
So Pauline, Linda and Lesley are buzzing about taking the show overseas again this Christmas for the first time in 18 years.
Filmed on location in Malta, which doubles as Morocco, the hour-long special sees Tracey, Sharon and Dorien, head to Tangier in search of Tracey's youngest son Travis (played by Pauline's son Charlie Quirke), who's gone missing on his gap year. Cue a sun-filled adventure packed with guest stars and big stunts.
What makes the ladies jump on a plane to Morocco?
Linda: Travis normally rings Tracey at the same time every day but then suddenly he doesn't. She gets into a panic and says we have to find him. Tracey says Dorien has to come as she speaks French, while Sharon thinks it's a holiday! So we go out there and…
Pauline: ... hilarity ensues!
Lesley: Everything that can go wrong, does. We meet various characters and people you think are good, aren't.
What else can you tell us?
Lesley: I won't tell you the ending but it's quite Christmassy.
Pauline: No one dies, we can say that much!
Linda: There are lots of good stunts. Some flying might be involved…
Talking of stunts, Lesley gets to ride across the desert on a camel…
Lesley: I want to make a picture of me riding the camel my next Christmas card! He was divine - everybody fell in love with Abdul.
Linda: He had the most piercing blue eyes - he was absolutely gorgeous. That was filmed in Leighton Buzzard in Bedfordshire, as there wasn't a camel safe enough in Malta.
Pauline: There's a quarry there that can double for any desert. We had to wear the same clothes we wore in Malta, though - we were so cold.
Martin Kemp also returns as Vince, last seen romping with Dorien in the back of a hearse at Darryl's funeral!
Linda: The writers asked if there were any characters we'd like to bring back and we all said Vince. I grew up with Martin, we lived in the same street and went to theatre school together. Everyone loved him last time.
Finally, what Christmas gift would you buy your character?
Linda: I'd get Tracey something engraved to her from her boys.
Pauline: I'm obsessed with Skechers shoes; I'd get Sharon a nice pair of those so when she's walking to the dole office every week she'd be comfortable.
Lesley: I'd buy Dorien something from the latest Ann Summers catalogue!
The Christmas special of Bird of a Feather airs on ITV on Christmas Eve at 8pm.
Get the What to Watch Newsletter
The latest updates, reviews and unmissable series to watch and more!