10 Years Ago in the Soaps: Week Beginning November 4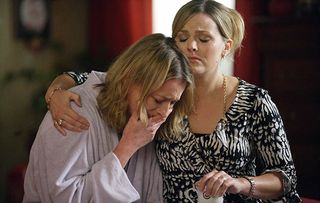 (Image credit: BBC)
10 Years Ago in the Soaps... Remind yourself of all the soap drama that was happening in Corrie, Emmerdale, EastEnders and Hollyoaks 10 years ago this week!
It was Bonfire Night this time 10 years ago in the soaps and there was some pretty explosive action… Jane and Steven Beale (Aaron Sidwell) were at the centre of one drama in EastEnders; Sally Webster (Sally Dynevor) was hoping for fireworks in Corrie; Louise Appleton (Emily Symons) made a very special Guy for the bonfire in Emmerdale and sparks flew between Mercedes McQueen (Jennifer Metcalfe) and Tony Hutchinson (Nick Pickard) in Hollyoaks!
EastEnders
How many tears has Jane Beale (Laurie Brett) shed over the years – many of them linked to Steven Beale and most of them either in a hospital bed or in her dressing-gown at home?! Jane's heartbreak 10 years ago this week was over the devastating news that she would never be able to have children. Jane had been accidentally shot by Steven as she stopped him killing himself. Desperate for medics to save Jane's life, her husband Ian signed the consent form for doctors to remove her womb. Jane cried on her best friend Tanya Branning's (Jo Joyner) shoulder – also a very difficult moment, as Tanya was heavily pregnant.
Meanwhile, Steven wanted to see his stepfather Ian and apologise but his grandmother, Pat Butcher (Pam St Clement), didn't think that was a good idea. She told him he would be better off going to his father, Simon Wicks, in New Zealand.
But Steven didn't listen…
Jase Dyer (Stephen Lord) was running scared on Bonfire Night 10 years ago, when he couldn't find his son, Jay. And he was right to be worried. Jase's past had caught up with him… He had been in a gang in his youth, now gang leader Terry Bates wanted Jase back in the fold. With Jay to look after, Jase wanted to keep out of trouble…but Terry wasn't going to let that happen. Terry took Jay to a fireworks display. No harm came to the boy; it was just a warning to Jase. But he told Terry again he wanted no part of the gang and Terry let him go home. But he wasn't finished with him.
Coronation Street
Sparks were flying in Sally Webster's house on Bonfire Night 10 years ago…Sally had the hots for John Stape (Graeme Hawley), but she was the only one fizzing like a Catherine Wheel. Sally was being tutored by teacher John for her A-level English but told him she couldn't concentrate on her studies because she fancied him! John wasn't interested and ended their study sessions, but then Sally was older than his other women… This is the same John Stape, remember, who was in a relationship with his former student Fiz Brown and was being chased by Sally's daughter Rosie, a pupil of his. The only other bloke on the Street who had had that much pulling power was Ken Barlow…and he'd been a teacher, too!
Sean Tully (Antony Cotton) was getting very excited about the baby Violet Wilson (Jenny Platt) was having… The way Sean saw it, it was their baby, as he had donated his sperm when single Violet wanted to get pregnant. But Violet wasn't single any more, she was with Jamie Baldwin. And she was furious when she discovered Sean had found out the sex of the baby and told people, when he knew she didn't want to know. Sean had pushed Violet too far and she told him coldly and clearly that the baby was hers and he was simply the donor. He was devastated!
Emmerdale
Donna Windsor-Dingle (Verity Rushworth) committed a crime against the Dingle clan by joining the police force this time 10 years ago. Her mum Viv Hope (Deena Payne) is happy for her, so is Paddy Kirk's copper cousin Ross Kirk (Samuel Anderson) – and that's why her husband Marlon (Mark Charnock) isn't smiling. He feared Donna was cheating on him with Ross and confronted her. Donna told Marlon he had ruined her day – but she had ruined the Dingles' year!
Marlon Dingle wasn't the only jealous lover in Emmerdale this week 10 years ago… Louise Appleton was sure that her toyboy Jamie Hope had found a younger girlfriend, despite his insistence that he was innocent. Sure that she has been betrayed, Louise put Jamie's face on the Guy that had been made for Bonfire Night and told him they were finished! It could have been worse…she could have put Jamie on the bonfire…
Hollyoaks
Oh, no! No! No! No! No! No! No! Yes… Tony Hutchinson and Mercedes McQueen had had run-ins with Jacqui McQueen and sought comfort in alcohol – and then each other! Tony was Jacqui's fella but their relationship had hit the rocks when Tony found out he had a son and Jacqui realised he would always put his children first. Mercedes had rowed with her sister and needed to let off steam. That's how things got steamy between Tony and Mercedes. They both regretted it the morning after, but what was done was done…
Ste Hay (Kieron Richardson) was feeling the pressure to proved for girlfriend Amy Barnes (Ashley Slanina-Davies) and her baby, Leah, this week 10 years ago. They got a council flat but had little to put in it.
Ste was trying to find a job and asked Warren Fox for work, but Warren just laughed at him. Angry, Ste stole Warren's credit card and a bought a flat-screen TV for the flat! That was just asking for trouble! And so was have a flat-warming party… Drugs were used – and someone reported Amy to the social services.
Get the latest updates, reviews and unmissable series to watch and more!
Thank you for signing up to Whattowatch. You will receive a verification email shortly.
There was a problem. Please refresh the page and try again.