10 Years Ago in the Soaps including EastEnders - Week Beginning June 2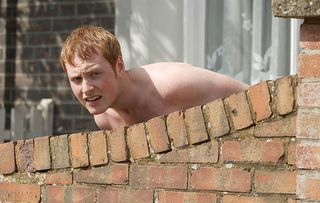 (Image credit: BBC)
10 Years Ago in the Soaps - Remind yourself of the soap drama happening in EastEnders, Coronation Street, Emmerdale and Hollyoaks 10 years ago this week!
Bradley Branning was caught out in EastEnders, David Platt walked free in Coronation Street, Eric Pollard and Val Lambert tied the knot in Emmerdale, and Ste Hay threw boiling soup over Amy Barnes in Hollyoaks - 10 years ago in the soaps
EastEnders - 10 Years Ago in the Soaps
Bradley Branning (Charlie Clements) was caught with his pants down when he nipped out to pick up a parcel the postman had dropped in the front yard only for the door to slam behind him! The sight of him in the buff cheered up his estranged wife Stacey (Lacey Turner) but as she was on the brink of letting him come round to hers, he cut her off, telling her bluntly that he didn't need her help. That wiped the smile off her face…
Dawn Swann (Kara Tointon) feared Jase Dyer (Stephen Lord) was cheating on her as he was working such long hours and behaving very mysteriously. When he texted her saying he wanted a special meeting that night Dawn was gutted, expecting him to dump her. But when they met at the Argee Bharjee, Jase produced a ring and asked Dawn to marry him. Dawn was thrilled, and said 'yes please!'
Coronation Street - 10 Years Ago in the Soaps
David Platt (Jack P Shepherd) had served his time and was thrilled to leave the detention centre - almost as thrilled as mum Gail (Helen Worth) and girlfriend Tina McIntyre (Michelle Keegan) who gave him a rapturous welcome. Back on the Street, Gail was pleased at David's new mature attitude when he ignored snide comments from Norris Cole and Blanche Hunt. But she wasn't pleased when her mum Audrey Roberts refused to give David back his old job at her salon!
Besotted Becky Granger (Katherine Kelly) reckoned she had her feet well under the table with Jason Grimshaw (Ryan Thomas). But when friends started teasing him about how serious the two of them had got so quickly, Jason realised he didn't share Becky's enthusiasm for them as a couple. And when she started talking about babies, he knew it was time to come clean. But did he have the guts to dump her?
Emmerdale - 10 Years Ago in the Soaps
Val Lambert (Charlie Hardwick) had no idea Eric Pollard (Chris Chittell) was planning a surprise, budget-conscious, wedding for her and the day didn't get off to the best start when she was kidnapped by Eli Dingle. Val was furious when she found out Pollard was trying to organise their wedding on the cheap but was freed in time to hear him say he truly wanted to give her a special day as she was his soulmate. So she slipped on her stunning wedding dress and headed over to the church where the two finally tied the knot…
It was decision day over the future of little Arthur Doland and Laurel Thomas (Charlotte Bellamy) was still hoping he wouldn't be proved to be her and Ashley's (John Middleton) son. But at a special hearing, the Thomases were revealed to be Arthur's biological parents and the judge ruled that he should go to them. Greg Doland (Shaun Prendergast) was devastated as he handed over Arthur and with Laurel not wanting to have anything to do with the baby, it was left to Ashley's niece, Jasmine Thomas (Jenna Coleman) to offer him support.
Hollyoaks - 10 Years Ago in the Soaps
Poor Amy Barnes (Ashley Slanina-Davies) was confused by her feelings for Ste Hay (Kieron Richardson). She loved him, but he hurt her… and this time seriously, when he hurled a pan of boiling soup at her in one of his jealous rages. Amy had to go to hospital where a nurse questioned Amy about her 'accident'. Ste was relieved when Amy covered for him then, as they walked home, he begged her forgiveness – before making her feel it was all her fault for provoking him!
Sasha Valentine (Nathalie Emmanuel) was struggling to cope with her heroin withdrawal and desperate for money to repay her drug dealer. Jamie 'Fletch' Fletcher (Sam Darbyshire) offered to help and they rifled through the school cupboards before stealing a laptop from the head teacher's office to sell. It wasn't their smartest move…
Get the latest updates, reviews and unmissable series to watch and more!
Thank you for signing up to Whattowatch. You will receive a verification email shortly.
There was a problem. Please refresh the page and try again.