10 Years Ago in the Soaps: Week Beginning December 9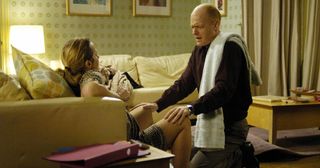 (Image credit: BBC)
10 Years Ago in the Soaps… Remind yourself of all the soap drama that was happening in EastEnders, Corrie, Emmerdale and Hollyoaks 10 years ago this week!
Max Branning (Jake Wood) turned midwife in EastEnders, Liam Connor (Rob James-Collier) confronted a 'stalker' in Corrie, Matthew King (Matt Healy) was charged with murder in Emmerdale, and Carmel McQueen (Gemma Merna) shocked her family in Hollyoaks – 10 Years Ago in the Soaps…
EastEnders
Tanya Branning (Joy Joyner) screamed Call The Midwife! at husband Max 10 years ago when her waters broke and she realised her baby was on the way. Unfortunately the midwife had bad news - she was tied up and couldn't get to them but would talk them through it on the phone! Tanya was terrified but Max proved an excellent midwife-substitute and ended up safely delivering the baby boy himself. The couple were thrilled with their tiny son - and with themselves for the DIY birth!
Christmas was coming far too quickly for Billy Mitchell's (Perry Fenwick) liking and all he wanted from Santa was to keep a roof over his family's head 10 years ago. Meanwhile his wife Honey was basking in the joy of having a man she loved and two adorable children and was totally oblivious to the dire straits their finances were in. The more content she appeared, the harder Billy found it to shatter her happiness - so, instead, he pinched the charity box from The Queen Vic and shattered that. Much good it did him… the box only held a few coins, the Albert Square residents weren't over-generous!
Coronation Street
Michelle Connor (Kym Marsh) was worried 10 years ago when her son Ryan feared he had a stalker, especially when the man in question stopped the lad and knew his name. Liam Connor came to the rescue by agreeing to chaperon Ryan to and from school and when the man turned up again, Liam pounced, demanding to know why he was following his nephew. The terrified 'stalker' - Nick Neesom (Robert Horwell) – stunned Liam with his reply: he didn't want to hurt Ryan, he was his dad! Michelle was totally baffled by this claim, but a bit of investigating revealed that Nick was right… his son, Alex, and Ryan had been swapped at birth. Oh dear!
David Platt (Jack P Shepherd) was a nasty piece of work 10 years ago, enjoying stirring up trouble between his mum Gail, sister Sarah and her new husband Jason Grimshaw. David's machinations were working a treat and Gail told Sarah and Jason they had to find somewhere else to live… a charming Christmas present! But it was the arrival of Gail's half-brother Stephen that really put the cat among the pigeons. David was so successful at convincing Stephen he was a changed man that Stephen offered him a job at his factory in Turin. Sarah wasn't fooled by David's 'transformation' and refused to join in as everyone raised their glasses to toast David…
Emmerdale
Jo Stiles (Roxanne Pallett) had a taste of Andy Sugden's (Kelvin Fletcher) evil temper 10 years ago when his daughter Sarah went missing while Jo was meant to be looking after her. Sarah was safely handed in at the local police station and Jo apologised profusely to Andy for letting the little girl out of her sight, but he wasn't interested in her excuses. He was fuming and pushed Jo up against the door. She cried out in fear as Andy raised his fist at her, but it was the door he punched… on that occasion.
Grayson Sinclair (Christopher Villiers) discovered his mother Rosemary was alive and well and living in Miami, but planned to fake her own death and pin the blame on Matthew King (Matt Healy). Grayson was all set to tell Matthew about her cunning scheme, until he saw Matthew getting up close and personal with his wife Perdy (Georgia Slowe) and realised the two were cheating behind his back. Hell had no fury like that man scorned and, before the end of the week 10 years ago, Grayson saw Matthew charged with murdering Rosemary and an assault on himself, for good measure.
Hollyoaks
Carmel McQueen (Gemma Merna) stirred up a hornet's nest 10 years ago when she started going out with hunky cop Calvin Valentine (Ricky Whittle). A McQueen and a policeman? That was never going to work. Her sisters Jacqui and Mercedes were stunned when Carmel said the shop-lifting, fiddling the utilities and benefit fraud had to stop now she was dating a cop. But they had the last laugh when Carmel found out the top she was wearing was a knock-off…
Darren Osborne (Ashley Taylor Dawson) was in a terrible financial mess after gambling all his money away and realised just how deep he was in when a heavy threatened to harm his one-time girlfriend Zoe Carpenter (Zoe Lister) if he didn't get the money he was owed. With time against him, Darren pinched jewellery from stepmum Frankie and pawned it to pay his debts. That was bad, but framing Newt Newton (Nico Mirallegro) for his crime and getting the poor lad chucked out of his home was really, really bad!
Get the What to Watch Newsletter
The latest updates, reviews and unmissable series to watch and more!