10 Years Ago in the Soaps: Week beginning February 17th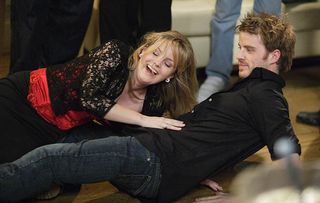 (Image credit: BBC)
10 Years Ago in the Soaps: Remind yourself of all the soap drama that was happening in EastEnders, Coronation Street, Emmerdale and Hollyoaks 10 years ago this week!
Tanya Branning (Jo Joyner) was falling down drunk in EastEnders, Sean Tully (Antony Cotton) was the proud daddy in Coronation Street, Jo Stiles (Roxanne Pallett) and Andy Sugden (Kelvin Fletcher) tied the knot in Emmerdale and The Dog was under siege in Hollyoaks – 10 Years Ago this week in the Soaps
EastEnders - 10 Years Ago in the Soaps
Birthday girl Tanya Branning was having a great time at her party and that was before Max spiked her drink with Absinthe! Secret lover Sean (Rob Kazinsky) tried to get totally-wasted Tanya to take it easy but she grabbed him for a dance before falling to the floor giggling, taking Sean with her! Their secret affair was a secret no more…
Bradley Branning (Charlie Clements) was back in Walford and set on divorcing Stacey. But he got more than he bargained for when he called in at Dot's to be met by scantilly-clad Clare Bates (Gemma Bissix), stepdaughter of her old friend Nigel Bates. Once he'd got over the the shock, Bradley poured his heart out about his cheating wife and Clare was very sympathetic. But Clare had a master plan, there was more to her than met the eye…
Coronation Street - 10 Years Ago in the Soaps
Violet Carson (Jenny Platt) was planning to escape Weatherfield with boyfriend Jamie Baldwin before her baby was born. But she was caught on the hop when her waters broke and she went into labour in The Rovers, giving birth with surrogate dad Sean Tully (Antony Cotton) by her side. He was thrilled, Violet less so…
David Platt (Jack P Shepherd) had fallen for Tina McIntyre (Michelle Keegan) big time and told her she could crash at 'Hotel Platt' seeing as his mum Gail (Helen Worth) was going away for a couple of weeks and she'd be fine with it. Funnily enough, Gail wasn't 'fine with it', especially when she discovered they had polished off a bottle of her wine!
Emmerdale - 10 Years Ago in the Soaps
It wasn't exactly the wedding Jo Stiles (Roxanne Pallett) had dreamed of, what with the bridegroom being in prison and her having to be searched before the ceremony. But Jo and Andy Sugden (Kelvin Fletcher) did tie the knot behind bars 10 years ago this week and at least familiar face Ashley Thomas (John Middleton) was there to officiate. But there was no honeymoon for them…
Tragedy hit the Thomas family 10 years ago when Laurel (Charlotte Bellamy) went to check on baby Daniel and discovered he wasn't breathing. They called an ambulance and paramedics issued instructions down the phone as Ashley desperately tried to revive his son. But it was no good, and a devastated Laurel gently cradled her dead son. It was truly heartbreaking.
Hollyoaks - 10 Years Ago in the soaps
Warren Fox's (Jamie Lomas) dodgy past caught up with him when a couple of old partners in crime stormed The Dog and held Jack and Frankie Osborne, Newt, and Louise Summers at gunpoint. The villains were after the 100 grand that Jack had borrowed to buy the pub back from Warren and though Warren tried to reason with them, he was knocked unconscious as the siege escalated. It didn't end well.
What was John Paul McQueen (James Sutton) doing in Drive 'N' Buy buying beer wearing only his boxers? Well, he was playing a game of Truth or Dare with Hollyoaks' priest Father Kieron Hobbs (Jake Hendriks). Kieron and John Paul had just shared an illicit kiss and Kieron was determined to prove all priests weren't prudish or uptight. Think he made his point…
Get the latest updates, reviews and unmissable series to watch and more!
Thank you for signing up to Whattowatch. You will receive a verification email shortly.
There was a problem. Please refresh the page and try again.