10 Years Ago in the Soaps: Week Beginning February 24 including Coronation Street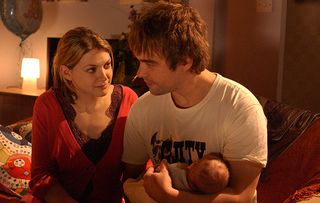 10 Years Ago in the Soaps… Remind yourself of all the soap drama that was happening in EastEnders, Coronation Street, Emmerdale and Hollyoaks 10 years ago this week!
Sean Tully (Antony Cotton) lost 'his' baby in Coronation Street, Ian Beale (Adam Woodyatt) played with fire in EastEnders, Perdy Hyde-Sinclair (Georgia Slow) lashed out in Emmerdale and Sam 'OB' O'Brien (Darren Jeffries) said goodbye to Hollyoaks - 10 Years Ago in the Soaps…
Coronation Street
Violet Wilson (Jenny Platt) and Jamie Baldwin (Rupert Hill) finally snatched a moment alone with their baby but Sean Tully - the tot's surrogate dad - was driving them crazy. And when he took time off work to spend with them, Violet told Jamie they had to escape from Weatherfield. Sean got wind of their plans but was too late to stop them as they sped away to their future… Poor Sean was devastated.
David Platt (Jack P Shepherd) reckoned the way to Tina McIntyre's heart was by getting her name tattooed on his arm. He was feeling very pleased with himself, thinking it the ultimate romantic gesture. But when he revealed his 'gift' to Tina (Michelle Keegan), she was horrified. Bad luck David!
EastEnders
Ian Beale couldn't quite believe his luck, but every way he turned coquettish Clare Bates (Gemma Bissix) seemed to be giving him the eye. With Jane out for the evening, Ian invited Clare round for a glass or six of wine. And when she 'accidentally' spilled some down her top she suggested she should slip upstairs to change into something fresh… Jane chose that moment to come home, but Ian somehow managed to bundle Clare out of the house without her catching them!
Max Branning (Jake Wood) wasn't about to give up on estranged wife Tanya (Jo Joyner) without a fight, especially after daughter Abi told him her mum said she missed him. Eventually Tanya said that Max could move back in and broke the news to her lover, Sean Slater (Rob Kazinsky). Sean was furious, but then Tanya told him why she was letting Max back into the house - REVENGE!
Emmerdale
Katie Sugden (Sammy Winward) might have looked like butter wouldn't melt, but she was convinced she and Gray Sinclair and the baby she was meant to be carrying for him and his wife Perdy had a future together. Perdy didn't want Gray but she did want the baby, and when she and Katie got into a fight she pushed Katie, making her fall on her tummy. Perdy was horrified, but luckily the baby was unharmed.
Nicola de Souza (Nicola Wheeler) wasn't a girl to be diverted from her plan and her plan was to kill off her rich old husband Donald and inherit his fortune. But how to do it? Give him an overdose, what could be simpler? Lots of things… Her plan to poison Donald by tampering with his pills went pear-shaped and the old man lived on…
Hollyoaks
It was a bittersweet day for Max (Matt Littler) and Tom Cunningham (Ellis Hollins) when Sam 'OB' O'Brien decided to follow his heart and stay in London with his performing arts student girlfriend Summer Shaw. Max and Tom had persuaded OB to make his move but it was a real tear-jerker when the time came for the best friends to say goodbye.
Sasha Valentine (Nathalie Emmanuel) and Jamie 'Fletch' Fletcher (Sam Darbyshire) had only one thing in mind when they bunked off school - sex. It was their first time and they were in bed, just getting down to business, when they were rudely interrupted by Sasha's furious dad, Leo (Brian Bovell). He chucked Fletch out, grounded Sasha, and told his mistress, Val Holden (Samantha Giles), to stop giggling!
Get the latest updates, reviews and unmissable series to watch and more!
Thank you for signing up to Whattowatch. You will receive a verification email shortly.
There was a problem. Please refresh the page and try again.