10 Years Ago This Week In The Soaps: February 25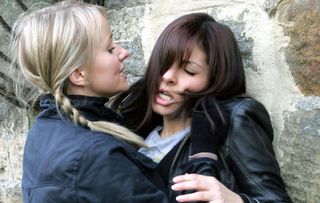 Leanne was back in Corrie, Max and Sean had a punch-up in EastEnders and schoolgirl Amy gave birth in Hollyoaks. Cast your mind back to the soaps 10 years ago...
Let's turn back time and see what was happening in soapland 10 years ago in late February 2007...
Awkward! Street cabbie Jamie Baldwin got a surprise when his ex-girlfriend Leanne Battersby returned to Coronation Street. Back in the day, naughty Leanne dated Jamie and then had an affair with his dad Danny (played by Bradley Walsh) which caused a big bust-up for the Baldwin family. Things were a bit frosty between the ex-lovers at first but eventually Jamie and Leanne were able to put the past behind them.
Remember when Sean Slater (played by Rob Kazinsky) spent lots of time walking around with not many clothes on in EastEnders? Phwoargh! In this scene, Sean gets into yet another bust-up with rival Max Branning who bursts into beauty salon Booty and interrupts Sean having a sexy romp with Denise's daughter, Chelsea. Yes, Max was still throwing the punches way back when. Come back to Albert Square, Sean, all is forgiven!
The claws were out in Emmerdale when villagers Katy Sugden and Jo Stiles clashed over hunky farmer, Andy Sugden. When Jo tried to cause more trouble, Katy flipped and warned love-rival Jo not to mess with her. As the two women scrapped at the farm, it was up to Andy to break-up the fight. Oh well, it took a few years, but Katy got her man in the end!
There was a right shocker in Hollyoaks when 15-year-old schoolgirl Amy Barnes went into labour and gave birth on the kitchen floor! Her sister Sarah and dad Mike were left reeling because they had no idea she was preggers. The family demanded to know who the baby girl's father is and wondered how Amy would be able to focus on her school exams and raise a child at the same time.
Michelle got a romantic surprise in Coronation Street when her boyfriend Sonny popped the question! But her happiness didn't last long when Steve dropped the bombshell Sonny was gay and was sneaking around with factory worker Sean. This all caused a right scene in the Rovers and mixed-up Michelle wasn't quite sure what to believe.
Hasn't little Jay grown since this episode of EastEnders was shown? In this scene, Pat decided Jay's grandad Bert needed to get his act together. Bert hadn't been doing a very good job looking after Jay and managed to miss Jay's football match. After Jay got sent-off from the match for hitting another player, Pat began to wonder if the lad was going to need a better guardian. Well, he got stuck with Phil Mitchell a few years later. So maybe Bert wasn't such a bad 'un after all!
Remember when Linda Lusardi was in Emmerdale? She played Carrie Nichols who had a teenage daughter Scarlett. The pair had a mystery connection to rich Home Farm owner Tom King. It turned out Carrie was Tom's ex-lover and Scarlett was his secret daughter! Naturally the King brothers all wondered what Carrie and Scarlett wanted. But when Jimmy confronted Carrie, demanding to know her intentions, he got a slap around the face instead. Ouch!
The McQueen family have always had a reputation for trouble. So when ex-con Jacqui tried to get a job in Hollyoaks she didn't have much luck at first and felt like a failure. She got involved with a dodgy gangsta Davey to make some money. However, determined to prove her gobby sister Mercedes wrong and stay out of trouble, Jacqui made a secret phone call and was ready to resort to desperate measures to get what she wanted.
Get the latest updates, reviews and unmissable series to watch and more!
Thank you for signing up to Whattowatch. You will receive a verification email shortly.
There was a problem. Please refresh the page and try again.