10 Years Ago in the Soaps - Week Beginning January 6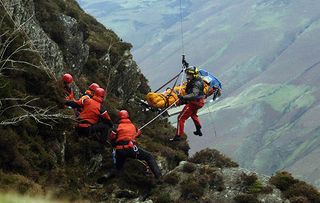 10 Years Ago in the Soaps… Remind yourself of all the soap drama that was happening in Coronation Street, EastEnders, Emmerdale and Hollyoaks 10 years ago this week!
Liam Connor (Rob James-Collier) was dramatically rescued in Coronation Street, Ronnie Mitchell (Samantha Womack) slept with Jack Branning (Scott Maslen) in EastEnders, Andy Sugden's wedding day was ruined in Emmerdale and Kathy Barnes was arrested in Hollyoaks - 10 Years Ago in the Soaps it was all happening...
Coronation Street - 10 Years Ago in the Soaps
A romantic break in the Lake District ended in near tragedy for Liam Connor and Maria Sutherland (Samia Longchambon) 10 years ago this week. The engaged couple were enjoying a walk with Ozzy the dog when Liam fell and plunged into a gorge. Maria ran for help and a dramatic helicopter rescue followed.
Liam was rushed to hospital where a nurse reassured Maria his chances were good… He was delirious but had been calling out her name - Carla! Maria wasn't happy…
All Kevin Webster ( Michael le Vell) had done was give John Stape (Graeme Hawley) a well-deserved punch for sleeping with his daughter Rosie (Helen Flanagan). But now he was paying for it. Charged with assault, Kevin was sentenced to 28 days behind bars. His wife Sally (Sally Dynevor) broke down in tears as he was taken away while, back home, Rosie was optimistically cooking a family meal. Sophie was furious with her sister - would Rosie ever be forgiven?
EastEnders - 10 Years Ago in the Soaps
The sexual tension was building between Jack Branning and Ronnie Mitchell 10 years ago, despite their families' disapproval. Phil Mitchell (Steve McFadden) held a grudge against Jack and Ronnie's sister Roxy reckoned Jack was driving a wedge between them. But when Jack saved the day by finding a stripper for hen do at the club, after Ronnie messed up, Ronnie's gratitude turned into a night of passion for the couple. The first of many…
Vinnie Monks (Bobby Davro) had taken a fancy to Shirley Carter (Linda Henry) but her best mate Heather was convinced that Vinnie was married and cheating on Shirl. In fact, pretending-to-be-loaded Vinnie did have a secret, he had borrowed a mate's car, house - and earrings - and the mate wanted them back! Vinnie went round to Shirl's, desperate to charm her but it didn't go well - she opened the window and chucked a bucket of water over him. The course of true love…
Emmerdale
Andy Sugden (Kelvin Fletcher) wanted to give bride-to-be Jo Stiles (Roxanne Pallett) a wedding day to remember, and it certainly was. Andy and his friends turned the barn into a dream venue 10 years ago and Jo was thrilled when she saw it. But not for long… Andy's solicitor turned up to say he had to go to court that day for sentencing after he'd confessed to the manslaughter of his adoptive mum, Sarah Sugden. Andy was terrified and Jo heartbroken when he was sent to prison for three years. There was no wedding that day…
Nicola De Souza (Nicola Wheeler) had more than met her match in new husband Donald (Michael Jayston) , the man she'd expected to conveniently die soon after they tied the knot. But Donald survived, knew Nicola's game - and was having a great time playing games with her! Released from hospital, Donald insisted Nicola take him home instead of going into care, as she planned, then had her running around catering to his every need. What's more, he announced his son Miles would be moving in with them. You almost had to feel sorry for her… Almost!
Hollyoaks - 10 Years Ago in the Soaps
It was the mystery that gripped Hollyoaks in January 10 years ago. Someone had it in for the Ashworth family, terrorising them with anonymous phone calls and random acts of vandalism. But who? Several people came under suspicion but when the culprit chucked a brick through the window of Drive 'n Buy, the mystery was solved by Carmel McQueen (Gemma Merna) who discovered a clue in the shape of a broken finger nail. It was Kathy Barnes (Sarah Jane Buckley) who disapproved of her daughter Sarah's relationship with Rhys Ashworth. A bit over-the-top, you'd think!
Amy Barnes (Ashley Slanina-Davies) was reeling from the shock of discovering her mum Kathy was behind the attacks on the Ashworths and forgot Ste Hay's (Kieron Richardson) 18th birthday. Big mistake. When she remembered, she determined to mark the occasion but then Ste's mum turned up and it turned into the birthday from hell. When Ste and Amy finally got the flat back to themselves, he took his frustration out on Amy and lashed out at her. It was the start of Hollyoaks' dramatic domestic abuse storyline.
Get the latest updates, reviews and unmissable series to watch and more!
Thank you for signing up to Whattowatch. You will receive a verification email shortly.
There was a problem. Please refresh the page and try again.