10 Years Ago This Week in the Soaps: November 26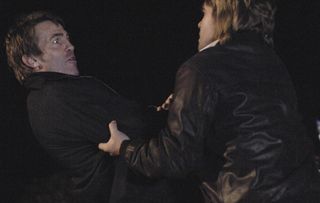 Remind yourself of all the soap drama that was happening in Corrie, EastEnders, Emmerdale and Hollyoaks 10 years ago this week. Seems like only yesterday!
Danny Baldwin climbed onto the viaduct and threatened to jump unless son Jamie ended his affair with stepmum Frankie. But when Danny saw how much Jamie loved Frankie he knew it wouldn't work, signed over his flat, factory and car to Jamie and decided to leave Jamie's life for good…
Meanwhile, Charlie Stubbs accused Norris Cole of being a peeping Tom after he accidentally (yes, honestly) caught Tracy Barlow undressing at the bedroom window. Norris claimed he was using his night goggles to watch out for the Street graffiti artist…
Carla Connor, Paul's wife, arrived on the Street and immediately annoyed Sally Webster by asking her to fetch more Champagne from her car.
EastEnders
Ian Beale planned to humiliate Jane on their wedding day after finding out she had slept with Grant Mitchell. In the event, heartbroken Jane didn't turn up and when Ian later found her wandering the streets in her wedding dress they ended up in a mud fight.
A distressed Martin Fowler sat with Pauline reliving the night of the fire that nearly killed her. And there was more bad news to come… Pauline told Martin she was suffering with a terminal brain tumour. But it was all lies to keep Martin and Sonia apart!
Ben Mitchell was in trouble for pinching Stella Crawford's phone, claiming he intended to return it but forgot. When Phil challenged him, asking why he hadn't passed on a message from Stella, Ben blurted out that it was because he didn't like Stella… Then he stormed out of the room!
Dishy David Metcalfe turned up in the village and told Eric Pollard that he was his son. But Pollard said that any number of men could be his dad, so David lost it and punched him!
Paddy Kirk consoled Toni Dingle after her date dumped her when he saw her scars… and they ended up kissing passionately.
Belle Dingle's attempt to pass off Shadrach as her dad at school came unstuck when it turned out that Shadrach used to date her teacher…
Warren Fox, OB, Clare Devine and Tony Hutchinson watched as Max Cunningham was loaded onto an ambulance and rushed to hospital after collapsing. There was a suspicion Max had taken drugs, but he was in for a shock when the doctor made his diagnosis…
Down in the dumps, Gilly Roach and Rhys Ashworth bonded over feeling sorry for themselves and their lack of luck with the ladies.
Moody Will Hackett was obsessed with Zoe Carpenter. He tried to win her affections, but when she turned him down he turned stalker and spent hours keeping watch on her…
Get the What to Watch Newsletter
The latest updates, reviews and unmissable series to watch and more!