10 Years Ago in the Soaps: Week Beginning December 23rd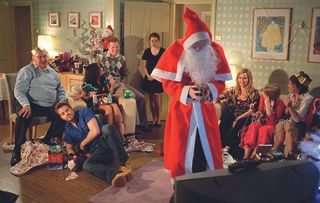 (Image credit: BBC)
10 Years Ago in the Soaps - Remind yourself of the all the soap drama that was happening in EastEnders, Coronation Street, Emmerdale and Hollyoaks 10 years ago this week!
EastEnders - 10 Years Ago in the Soaps
Christmas Day at the Brannings was all going so well 10 years ago in the soaps. Bradley Branning (Charlie Clements) showed a delighted Stacey her present - a rented flat for them to start their married life - and Max Branning donned a Santa outfit to hand out the rest of the gifts. Unfortunately one of them was the DVD for Bradley with the tell-tale wedding footage. The family settled down to watch the footage, Bradley pressed 'play' and a horrified silence descended as they all saw the film of Stacey and Max kissing… Lauren Branning, who made the DVD, felt sick - what had she done?
Max begged his family to believe that his kiss with Stacey was not what it seemed but devastated Tanya and Bradley were in shock. Tanya went upstairs to pack her bag but, when Max tried to stop her leaving, she tripped over her case and crashed down the stairs…
While the rest of his family were thrown into turmoil, Jack Branning (Scott Maslen) had other things on his mind… pursuing Ronnie Mitchell (Samantha Womack). He invited her over to the hot Albert Square club that evening, promising her a great night out. But when she arrived she found the lights dimmed and Jack by himself… he'd got what he wanted, an evening along with Ronnie… And we know where that got him in the years to come!
Coronation Street - 10 Years Ago in the Soaps
Over in Coronation Street the proverbial hit the fan when another secret affair was uncovered 10 years ago in the soaps, all because naughty teacher John Stape (Graeme Hawley) got his Christmas undies in a twist. The sexy lingerie (small size) he'd wrapped for mistress Rosie Webster (Helen Flanagan) fell into the hands of his official girlfriend Fiz Brown (Jennie McAlpine) while the flannel pyjamas (large size) meant for Fiz ended up with a baffled Rosie. As the truth dawned, Fiz slapped John, Sally slapped Rosie, and Kevin punched John. It wasn't only Christmas that was ruined…
It was Liz McDonald's hen night - she was set to tie the knot with Vernon Tomlin - and as the booze flowed the girls started gossiping about their men. Carla Connor (Alison King) was still feeling jealous about Maria Sutherland (Samia Longchambon) and Liam Connor's relationship and couldn't resist saying that her new man Tony Gordon was a better kisser than Liam. Maria overheard her boast and was horrified that she and Liam had kissed. Carla backtracked, playing down the kiss but Maria was still annoyed and Liam had a lot of explaining to do when she got home.
Emmerdale - 10 Years Ago in the Soaps
Matthew King was in prison 10 years ago, framed for murdering Rosemary King, and convinced his lover Perdy Hyde-Sinclair's husband Gray had set him up. He wasn't wrong… all Perdy (Georgia Slowe) had to do was help him prove it. And she did, by tracking down the cardigan with the missing button that Gray had planted on Matthew. Gray tried to make a run for it with the incriminating evidence, but was floored by Carl King (Tom Lister). It was game - and marriage - over for Gray!
Nicola De Souza (Nicola Wheeler) always had an eye on the main chance and had only married wealthy Donald for his money... money that would come to her so long as his son Miles was a drunk. She'd also assumed Donald wasn't long for this world and had teamed up with David Metcalfe (Matthew Wolfenden) to make sure Miles stayed on the booze. They were both excited when the hospital called to say there had been a change in Donald's condition and had to hide their disappointment when they realised it had changed - for the better. Donald woke up and recognised Miles, but claimed to have no idea who Nicola was. Later Donald told his son he knew exactly who Nicola was - and what she was up to!
Hollyoaks - 10 Years Ago in the Soaps
Warren Fox wasn't famous for his tact but even he could have delayed storming over to Frankie Osborne's to demand the keys to The Dog while Jack Osborne lay seriously ill in hospital after a heart attack. It was touch and go if Jack would pull through, but Warren had won Darren's 50 per cent share of the pub in a bet and he had come to claim it. Darren was devastated at the chaos he had caused - but it didn't stop him gambling.
Desperate to have a baby, Jacqui McQueen was thrilled when her sister Tina Reilly volunteered to be a surrogate for her and Tony Hutchinson (Nick Pickard) 10 years ago. But Tony wasn't so sure... he could see all sorts of problems ahead, not least that Tina was married to his half-brother Dom (Nick's own brother, John)! And Tony was right to be worried…
Get the What to Watch Newsletter
The latest updates, reviews and unmissable series to watch and more!