5 Majestic Facts About Victoria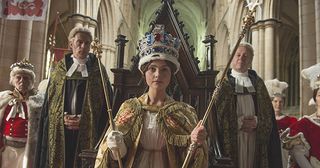 As Jenna Coleman prepares to ascend the throne as Victoria in ITV's new historical drama, here are 5 fascinating things about the iconic royal
Former Doctor Who star Jenna Coleman plays teenage Queen Victoria in ITV's new lavish eight-part drama about the monarch's scandalous early years on the throne.
This eight-part drama follows the early life of Queen Victoria from her ascension to the throne at the tender age of 18, through to her courtship and marriage to Prince Albert. Victoria went on to rule for 63 years, and was our longest serving monarch until she was overtaken by Elizabeth II on September 9th last year.
Here are five things you may have not known about Queen Victoria...
1 Blue blood
Jenna had to wear blue contact lenses to portray Victoria as her eyes are naturally brown. She says she's developed a fondness for the colour and joked she may wear them permanently.
2. Half-pint Highness
Her Maj was just 4ft 11in! Even a special crown had to be commissioned for Victoria's Coronation because the others were too big... She also had a specially made throne. Jenna is a little (not a lot!) taller at 5ft 2in.
3. Ring ring
At Victoria's Coronation, the Archbishop forced the ring of state on the wrong finger... she was too brave and ambarrassed to complain!
4. Young lust
On 11th November 1839 in her diary, the 19-year-old Victoria wrote: " How handsome dearest Albert looks in his white cashmere breeches. With nothing on underneath."
Not the words of a sour-faced monarch, but the passionate words of a love-struck girl, who just happened to be Queen.
5. A woman's best friend Dash the spaniel was Victoria's constant companion during her early years at Kensington Palace.
Victoria continues on ITV on Sunday nights
Get the latest updates, reviews and unmissable series to watch and more!
Thank you for signing up to Whattowatch. You will receive a verification email shortly.
There was a problem. Please refresh the page and try again.