Box Set Binge: Barracuda, Beyond and Sneaky Pete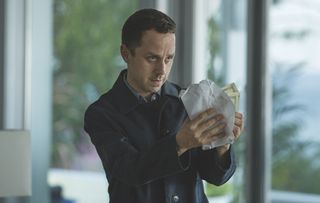 (Image credit: Eric Liebowitz)
Stuck for something to watch this weekend? Sit back and enjoy streaming stand-outs Barracuda (BBC iPlayer), Beyond (Netflix) and Sneaky Pete (Amazon Video)
Have a peek at these top shows available on streaming services BBC iPlayer, Netflix and Amazon Video...
Sneaky Pete (Amazon Video) (opens in new tab)
Co-created by Breaking Bad's Bryan Cranston, 10-part US crime drama Sneaky Pete follows released convict Marius Josipovic (Giovanni Ribisi) as he assumes a different identity. The entire first series of this Amazon Original is available on the streaming service now…
https://www.youtube.com/watch?v=OG_zb8VZPMA
Conman Marius Josipovic is about to be released from prison. But he learns, in a phonecall with his brother, that a brutal gangster from his past, Vince (Bryan Cranston), believes he still owes him a vast sum of cash and wants him dead – his only hope is to go into hiding when he's freed. Marius then comes up with an audacious plan.
After leaving prison, Marius assumes the identity of his former cellmate Pete - who has spent years idly chatting about his life and the carefree childhood years he spent with his extended family at his grandparents' sizeable country home. Against the odds, Marius, presenting himself as the long-estranged Pete, manages to 'reunite' with his ex-cellmate's dysfunctional extended family and even ends up joining the clan's bail bond business, tracking down criminals!
But can 'Pete' keep up the deceit? Or will Vince track him down and shatter more than just his assumed identity? Barracuda (BBC iPlayer)
Still waters run deep in this four-part drama that charts the highs and lows of a young swimmer's bid for pool glory. Catch Barracuda, based on the novel by Christos Tsiolkas (The Slap) on BBC iPlayer now…
https://www.youtube.com/watch?v=K3OV4wgE5eg
Gifted swimmer Danny Kelly (Elias Anton) wins a scholarship to an exclusive Melbourne private school, where his working-class roots and mixed heritage see him become the target of harassment from the privileged students. In the pool, however, he is untouchable and swiftly earns the nickname 'Barracuda'. Under the guidance of highly-regarded coach Frank Torma (Matt Nable), Danny looks set to achieve his dream of winning gold at the 2000 Sydney Olympic Games.
But, as the bristling drama unfolds, Danny's blinkered determination and emotional volatility has unexpected, life-changing consequences.
Beyond (Netflix) (opens in new tab)
A young man wakes from a 12-year coma and discovers he has supernatural abilities in 10-part US drama Beyond. Catch the entire series on Netflix now…
Teenager, and space obsessive, Holden Matthews is keen to witness a meteor shower and heads to a local vantage point to watch the celestial show with his pal Kevin. But when the pair find themselves under attack from Kevin's hotheaded older brother and friends, Holden flees on his bike - crashing in nearby woods after hitting his head on a low-lying branch. Dazed, he stumbles to his feet only to be blinded by a stunning white light above him.
Twelve years later, Holden (Burkely Duffield), now in his 20s, emerges from the coma he has been in ever since that fateful night. Over the coming days, he astounds his family and medics alike with his rapid recovery, but stranger still are the events that follow. Discharged from hospital and back at home, Holden dreams of flames and a mysterious male figure, then wakes up at the exact same spot where he hit his head in the woods. Soon after, he encounters an alluring, shifty woman who warns him to trust no one. At a CT scan, unseen forces around Holden set the lab on fire, but he's unharmed. Later, cornered by three threatening men, Holden unwittingly unleashes his supernatural abilities.
Can Holden uncover the truth behind his new-found powers and what really happened on the night, 12 years ago, when he slipped into a coma?
Get the latest updates, reviews and unmissable series to watch and more!
Thank you for signing up to Whattowatch. You will receive a verification email shortly.
There was a problem. Please refresh the page and try again.