Box Set Binge: Don't Trust the B---- in Apartment 23 and Preacher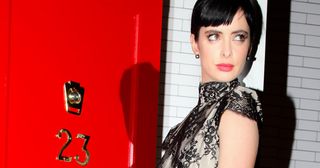 (Image credit: X Prutting/BFA/REX/Shutterstock)
Stuck for something to watch this weekend? Sit back and enjoy streaming stand-outs Don't Trust the B---- in Apartment 23 (Netflix) and Preacher (Amazon Video)
Have a peek at these top shows available on streaming services Netflix and Amazon Video...
Don't Trust the B---- in Apartment 23 (Netflix)
Before battling baddies as superhero Jessica Jones, US actress Krysten Ritter was the eponymous 'B---- in Apartment 23'. Catch two series of the American sitcom on Netflix now.
June Colburn (Dreama Walker) moves from Indiana to New York to begin her dream job at a mortgage company. Her new role comes with an accompanying luxury apartment – but on her very first day the company implodes in a financial scandal, so she loses both her new job and her new home in one fell swoop. She then meets spirited New York party girl Chloe (Krysten Ritter)...
Chloe happens to have a room to rent in her apartment and a desperate June agrees to move in – unaware that Chloe is a serial scammer who has developed a pattern of getting new roommates to pay several months rent in advance, before making life in the apartment so hellish that they move out prematurely (leaving her to pocket all their rent advance).
June, however, turns out to be more difficult to dislodge than Chloe anticipates – and despite their differences, the pair form an unlikely bond.
Dominic Cooper plays a brooding priest with a sordid past and a supernatural ability in comic book adaptation Preacher. The first series is available on Amazon Video now...
https://www.youtube.com/watch?v=qhk7kXQJ8Vw
The series centres on Jesse Custer (Dominic Cooper), a Texan town preacher (and reformed criminal) who is losing his faith and contemplating turning his back on his church. At his lowest ebb, Jesse is suddenly inhabited by a mysterious entity that enables him to control minds. As he tests the limits of his new power, Jesse is flanked by by his gun-toting ex-girlgriend Tulip O'Hare (Ruth Negga) and Cassidy (Joseph Gilgun), an Irish vampire who lands in the town after a violent episode on a private jet.
The motley trio must stand up to more than just the townsfolk's righteous indignation. How will they fare as they clash with brutal angels and a bounty hunter with God-like powers?
Get the latest updates, reviews and unmissable series to watch and more!
Thank you for signing up to Whattowatch. You will receive a verification email shortly.
There was a problem. Please refresh the page and try again.