Blu-ray review | Foxy Brown (1974) | The blaxploitation classic that inspired Tarantino gets a HD tune up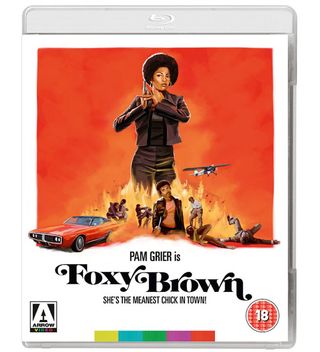 THE STORY After her narcotics cop boyfriend is murdered; Foxy Brown (Pam Grier) infiltrates a prostitution and drugs ring tled by a kinky white couple. But when her cover is blown, she is kidnapped, drugged and raped by two redneck henchmen. Escaping their clutches, Foxy swears there's gonna be hell to pay by calling on the assistance of her Black Power brothers to take the villains down...
THE LOWDOWN If you ever wanted to know where Quentin Tarantino got his mojo from, then you must check out this 1975-crime thriller from Spider Baby director Jack Hill. The formidable Pam Grier shows why she became the pin-up queen of the blaxploitation era in this sequel (despite the name) to Hill's 1973 hit Coffy and why Tarantino chose to pay homage to Grier's iconic status in 1997's Jackie Brown. Grier's sexy streetwise character is a 'whole lot of woman' that became a female empowerment symbol in the 1970s, while Hill's film - which puts a Black Pride spin on classic thriller's like Jules Dassin's Rififi - set the bar for the genre. And let's not forget the 1970s fashion... the colourful threads worn by the cast are a knockout.
THE DISC The Arrow Video Blu-ray and Steelbook release features a restored high-definition transfer and a stack of special features and bonus material including an audio commentary with director Jack Hill, three new featurettes (featuring actor Sid Haig, stuntman Bob Minor and blaxploitation legend Fred Williamson), behind-the-scenes photos and publicity images, theatrical trailer and collector's booklet. The only thing missing to make this the ultimate release however is Willie Hutch's funky soundtrack and an interview with Grier.
http://youtube.com/v/GXvXtq0pICM
Get the What to Watch Newsletter
The latest updates, reviews and unmissable series to watch and more!