Blu-ray review | Tabu: A Story of the South Seas (1931) | FW Murnau's sensual silent masterpiece gets a gloriously restored print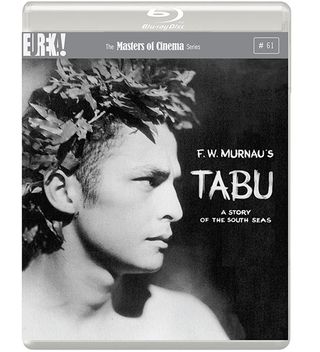 THE STORY A Tahitian fisherman (Matahi) and his sacred virgin lover (Anne Chevalier) flee their island homeland on Bora Bora and settle down in a nearby French colony where Matahi becomes a successful pearl diver. But the couple's newfound happiness is threatened when a reward is placed on returning them to their island.
THE LOWDOWN German director FW Murnau's South Seas tale of paradise lost is an unforgettable silent masterpiece and an exotic anthropological fable. By doing away with title cards and insisting that no actors feature in the drama, Murnau catches the 'true unspoilt spirit' of the Polynesian islanders, while Floyd Crosby's impeccable monochromatic cinematography captures the lush landscape in such glorious detail that National Geographic fans will go weak at the knees. Not surprisingly, Crosby won an Academy Award for his efforts.
While Tabu is a remarkable achievement, it's the story behind the making of the film that is even more fascinating. In fact, it's worthy of a film itself - much in the same way that 2000's Shadow of the Vampire fictionalised the fraught conditions surrounding the making of Murnau's best-known film, 1922's Nosferatu.
THE MAKING OF TABU Murnau originally conceived Tabu with Nanook of the North documentarist Robert Flaherty, but ended up taking over the production with Crosby as his head cameraman. According to Crosby - who would go on to lens Roger Corman's kaleidoscopic Poe cycle of films starring Vincent Price in the 1960s - Murnau was a great director, but hell to work with. Sadly, however, the lyrical master of silent cinema who made just 21 films in his brief, but brilliant career, never got to see his South Seas idyll with a paying audience, as he was killed in a car accident just eight days before Tabu's New York premiere in 1932. Could it have something to do with him daring fate by living in a house built on a graveyard that was regarded as taboo in Bora Bora? Or was it just a tragic coincidence?
Like 1922's Nosferatu and 1927's Sunrise, Tabu stands as one of Murnau's most personal, most aesthetic and most enjoyable to watch. For many years it was only available with five minutes of cuts, but now audiences can finally see it again the way it was meant to be seen with this newly restored Masters of Cinema release.
THE RELEASE New 1080p HD transfer on the Blu-ray of the 75th anniversary restoration/Murnau-approved version of the film in its original 1.19:1 aspect ratio; commentary track by R Dixon Smith and Brad Stevens; German documentary about Tabu by Luciano Berriatúa; outtakes from the original shoot; collector's booklet; plus the 1940 archival short film Treibjagd in der Südsee.
http://youtube.com/v/bK3AGVZ_97Q
Get the What to Watch Newsletter
The latest updates, reviews and unmissable series to watch and more!