Bob Mortimer 'wanted to prove men are best cooks'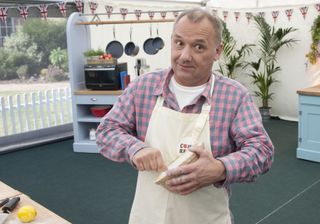 (Image credit: Jon Cottam)
Comedian Bob Mortimer cooks up a storm in a charity Bake Off challenge for Comic Relief... How did you rate your cooking skills before you took part in The Great Comic Relief Bake Off? "They were pretty good I think. On the show, I managed to complete everything; everything was edible at least." You're set three challenges to create signature, technical and showstopper bakes. What did you have to make? "First, we had to make scones. My fruit scones were all ready to put in the oven when I realised I hadn't put any fruit in them. I then had to make chocolate eclairs, and the third challenge was to make a cake that represented something very British." You're competing in Wednesday's mini Bake Off with Newsnight host Kirsty Wark, Countryfile's Julia Bradbury and Paralympic swimming gold medallist Ellie Simmonds. What was it like going up against them? "I wanted to prove that men are the best cooks! I got a bit picked on by judge Paul Hollywood, to be honest. I reckon he was scared stiff of the three ladies competing, so he saved all his nonsense for me!" Did you manage to get your own back on him? "All my scones fell on the floor, but I didn't tell anyone; well, I didn't tell Paul until he'd tried one anyway!" So what did judges Paul and Mary Berry think of your baking skills overall? "Mary said my cake was the only one that was of a professional standard while Paul said all my baking should just be thrown in the bin. Of course I'm on Mary's side - she's my favourite judge." Without giving the game away - do you think you did enough to be crowned Comic Relief Star Baker at the end of the episode? "I think I did enough, but I'll leave it at that. I was desperate to win though!" Did you get together with any of the celebs in the other mini Bake Offs to discuss muffins? "No, we didn't see them at all because we filmed on different days. But I heard that Dragon's Den's Duncan Bannatyne didn't take it as seriously as some people. I'd quite like to see him up to his arms in whipped cream!" On a serious note, bake sales are a good way of raising money for Comic Relief, aren't they? "Yes. Baking's an easy way of putting in a bit of effort while making a few shillings for charity. Not everyone wants to sit in a bath full of baked beans!" The Great Comic Relief Bake Off screens on BBC2 from Monday, January 21 to Thursday, January 24.
Get the latest updates, reviews and unmissable series to watch and more!
Thank you for signing up to Whattowatch. You will receive a verification email shortly.
There was a problem. Please refresh the page and try again.