Intense thriller Born To Kill starring Daniel Mays and Romola Garai debuts on Channel 4 next year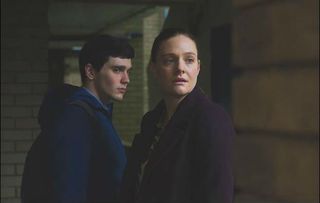 Filming has started for Channel 4's new psychological thriller, Born to Kill. Here's everything you need to know...
Filming has started for an intense new psychological thriller which airs on Channel 4 in the new year.
Born to Kill stars Romola Garai (The Hour, Suffragette) and Daniel Mays (Made in Dagenham, Line of Duty, Rogue One: A Star Wars Story,) as the single parents of two out-of-control teens.
The four-part thriller is a haunting exploration of the mind of Sam - a teenager who's on the verge of acting out hidden psychopathic desires. He lives with his protective mum Jenny (Romola Garai), a geriatric nurse, and thinks his dad died in a car crash…
While working at the local hospital, Jenny meets the charming Bill (Daniel Mays). New to town with his moody teenage daughter Chrissy, Bill's trying to reconnect with his elderly mother Margaret.
Just as Jenny and Bill start to hit it off, their kids meet at school and also form an instant attraction. Sam feels like he's finally met someone that he can relate to, but does she really share his desire… to kill?
At the same time, Jenny learns that her ex, Sam's dad, a violent man named Peter (Richard Coyle, The Fall), is nearing his parole date.
Jenny must now face telling her son that not only is his father alive, he's also a convicted murderer.
As this menacing four-part drama unfolds, decades of deceit unravels as Jenny, Sam and Peter's long buried past comes back to haunt the fractured family.
Will Jenny discover, despite her best efforts, that Sam and his dad are more alike than she could have ever imagined?
Simon Maxwell, Head of International Drama at Channel 4 said: "Born to Kill expertly combines the psychological thriller and coming-of-age drama to take us into the terrifying world of its young protagonist and offer us a unique insight into the genesis of one young man's psychopathy. It's a testament to the quality of Kate and Tracey's scripts that they've attracted such a stellar cast, from established stars Romola Garai and Daniel Mays to stars-in-the-making Jack Rowan and Lara Peake. We're thrilled to be working with World on this brave new show."
Get the latest updates, reviews and unmissable series to watch and more!
Thank you for signing up to Whattowatch. You will receive a verification email shortly.
There was a problem. Please refresh the page and try again.