Box Set Binge: Crazy Ex-Girlfriend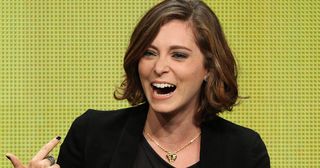 (Image credit: Buchan/Variety/REX/Shutterstock)
Stuck for something to watch this weekend? Sit back and enjoy streaming stand-out Crazy Ex-Girlfriend (Netflix)
Crazy Ex-Girlfriend ( (opens in new tab)Netflix)
Catch back-to-back episodes of American musical-comedy-drama Crazy Ex-Girlfriend on Netflix now.
The series opens in 2005 with a brief musical performance - a group of awkward teenage girls on stage at summer camp singing 'I'm in love with a wonderful guy'. The lyrics really strike a chord for one member of the group, Rebecca Bunch. She's met the love of her life at the camp, Josh Chan. But with summer nearly over and their parents arriving to collect them, Josh tells a distraught Rebecca their relationship is over and they should go their separate ways. Until, 10 years later, their paths cross again…
https://www.youtube.com/watch?v=JKnWw7ou4ik
It's 2015 and Rebecca (series creator and writer Rachel Bloom) is a successful lawyer at a top New York firm. On the day she is set to be promoted to a partner in her company, she has a crisis of confidence – is this really the life for her? Is she happy? Fleeing her office in panic, she prays for a sign to give her life some direction – and within seconds her eyes land on a familiar face: Josh Chan (Vincent Rodriguez III), the love of her life who broke her heart 10 years before, is walking down the street.
Josh, it turns out, has been trying to make a life for himself in New York, but it hasn't worked out, so he's moving back to his California hometown of West Covina ('just two hours from the beach, four in traffic'). As they say their goodbyes and Josh walks off, Rebecca makes a monumental decision – she returns to her office, quits her job, packs her bags and moves to West Covina (with it comes a full Hollywood-style musical production, with Rebecca singing about her move to the town accompanied by choreographed dancers, full marching band, and a levitating pretzel).
Telling herself her move to West Covina has nothing to do with stalking Josh, Rebecca immediately starts stalking Josh (monitoring his every move on Facebook and trying to arrange 'chance' encounters with her former boyfriend). But there's one thing she hadn't bargained on… Josh already has a girlfriend – a beautiful, and controlling, yoga instructor called Valencia. Life in West Covina is going to be full of highs and lows for Rebecca – there are comic, and complicated, characters aplenty and pop-pastiche musical numbers that are unshakeably catchy.
Get the latest updates, reviews and unmissable series to watch and more!
Thank you for signing up to Whattowatch. You will receive a verification email shortly.
There was a problem. Please refresh the page and try again.