Downton's Hugh Bonneville and The Fall's Gillian Anderson to star in Viceroy's House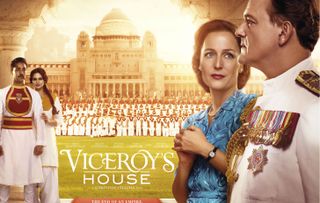 A line-up of British TV and film stars are set to star in upcoming historical drama Viceroy's House, which explores the final months of British rule in India.
A line-up of British TV favourites are set to star in an upcoming historical drama about the final months of British rule in India.
Downton Abbey star Hugh Bonneville and Gillian Anderson (The X Files and The Fall) will be leading the cast of Viceroy's House, which will be released in UK cinemas on 3rd March 2017.
Its release will coincide with the 70th Anniversary of the Independence of India and the founding of Pakistan.
Bonneville will play Lord Mountbatten, while Anderson will play his wife Lady Mountbatten. They will be joined by Lily Travers (Kingsman) as their daughter, Pamela, Sir Michael Gambon (Harry Potter, Quartet) and Simon Callow (A Room With A View, Four Weddings and a Funeral) as key civil servants.
Pathe has today launched the first trailer and poster in support of the film's release.
https://www.youtube.com/watch?v=id_ZyNdvXKQ
The Indian and Pakistani cast is led by Manish Dayal (The Hundred Foot Journey), Huma Qureshi (Gangs of Wasseypur) and Om Puri (The Hundred Foot Journey, East Is East). The roles of the principal political leaders are played by Tanveer Ghani (Nehru), Denzil Smith (Jinnah) and Neeraj Kabi (Gandhi).
It is a story that is deeply personal to director Gurinder Chadha (Bend it Like Beckham), whose own family was caught up in the tragic events that unfolded as the Raj came to an end.
Viceroy's House in Delhi was the home of the British rulers of India. After 300 years, that rule was coming to an end. For 6 months in 1947, Lord Mountbatten, great grandson of Queen Victoria, assumed the post of the last Viceroy, charged with handing India back to its people.
The film's story unfolds within Viceroy's House. Upstairs lived Mountbatten together with his wife and daughter; downstairs lived their 500 Hindu, Muslim and Sikh servants.
As the political elite - Nehru, Jinnah and Gandhi - converged on the House to wrangle over the birth of independent India, conflict erupted.
A decision was taken to divide the country and create a new Muslim homeland: Pakistan.
Writing in The Guardian, Gurinder Chadha explained her reasons for exploring the events on film. She wrote: "Although I had been a film-maker for many years, I had never had the courage to tackle the political tragedy that tore my family apart. As I researched the script, I also began to realise how little I really knew of the bigger picture, of the global interests at play as India was divided."
Viceroy's House will be released in cinemas in 2017.
Get the latest updates, reviews and unmissable series to watch and more!
Thank you for signing up to Whattowatch. You will receive a verification email shortly.
There was a problem. Please refresh the page and try again.