Britain's Forgotten Serial Killer: How the making of a revealing new documentary helped a serial killer's troubled brother find peace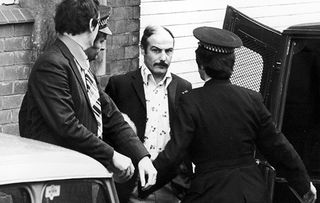 (Image credit: Mirrorpix)
Britain's Forgotten Serial Killer is on Crime & Investigation on Sunday at 10.00pm
Back in the 1970s, killer Trevor Hardy - pictured above in custody in 1978 - murdered three young women in Manchester.
This Sunday, Hardy's crimes are revisited in a documentary on Crime & Investigation, which is based on the work of journalist Lianne La Borde.
"I was doing some research and came across his case. I've got a criminology degree and I'd never heard of him. I found his brother Colin and wrote to him," says Lianne, who was stunned when Colin handed over Hardy's letters and documents he'd inherited when Hardy died in jail in 2012.
Seeking closure: Colin Hardy hopes to move on with his life
Among Hardy's things were countless letters he'd written to the authorites, retracting his confession over the three killings and, worst of all, trying to convince them Colin was responsible for the unsolved murder of Dorothy Leyden.
"Colin hadn't seen his brother since he was sentenced," says Lianne. "But these documents brought everything back, as Hardy had been mentioning Colin's name in letters to people telling them Colin was a murderer. And while it wasn't true, it puts it in people's minds.
"It was important for Colin to do this documentary because someone with a professional eye could look through the documents and answer some of his questions."
A trailer for Britain's Forgotten Serial Killer
Some of those questions involve potential failings by Greater Manchester Police. In 1975, Colin told them Hardy confessed to killing Wanda Skala, but after being given an alibi he was freed and went on to kill Sharon Mosoph.
"That's really haunted Colin," says Lianne. "He still feels that girl died when she didn't need to."
According to psychologists, Hardy tried to frame Colin because he felt resentment towards him.
"Hardy was the youngest in the family and eight years later Colin arrived and he felt his brother had taken his place," explains Lianne. "Then once Colin went to the police after that first confession, Hardy hated his brother for it and always wanted revenge."
Now many questions have been resolved, Lianne is hoping it will bring closure to Colin.
"Colin's been living under this cloud of Hardy," says Lianne.
"He wants to draw a line under it all and live out his life in peace."
Britain's Forgotten Serial Killer, which is made by TI Productions, a company owned by Time Inc UK, owners of What's On TV, will be shown on Crime & Investigation at 10.00pm.
Pic credits: Sky
Get the latest updates, reviews and unmissable series to watch and more!
Thank you for signing up to Whattowatch. You will receive a verification email shortly.
There was a problem. Please refresh the page and try again.