Britain's Got Talent: Six SECRETS from the set!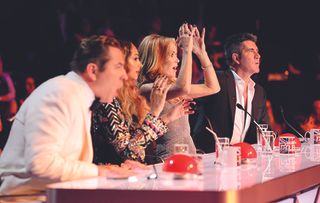 (Image credit: Tom Dymond/Thames/REX/Shutterstock)
With just a few audition shows left before Britain's Got Talent goes live, we lift the lid on the things you don't see as we go behind the scenes of TV's top talent show...
As the Britain's Got Talent auditions continue, we go behind the scenes of the popular talent show…
1. A global phenomenon
Broadcast worldwide in 154 countries, Britain's Got Talent is quite possibly the biggest show on earth. So putting it together is no mean feat. The main audition shows are filmed on 40 cameras, there are 62 microphones inside the theatre to pick up the sound (including the crowd's reactions) and around 24 microphones backstage. If all the tapes from 13 years of BGT auditions were played out end-to-end it would take eight years for one person to watch them all – without sleeping!
2. Open to all
The best thing about Britain's Got Talent is that it's the one TV talent contest that allows anyone to audition, whatever their skill. For this 13th series, the youngest contestant to audition for judges Simon Cowell, Amanda Holden, Alesha Dixon and David Walliams is just four years old and the oldest is 88. The biggest group to audition this year is a choir with 57 members. That's a LOT of people on one stage!
3. Simon says…
It's seems the clocks at the BGT auditions aren't set to GMT but to SCT – Simon Cowell Time. Describing the first thought that goes through her mind on audition day, judge Alesha says: 'I wonder what time Simon is going to arrive and how much time I am going to sit around waiting for him,' she teases. 'To be fair to him, we've actually accepted he starts work so much later than the rest of us because it actually means we get more of a lie in – and Amanda and I have more time with our glam squads!'
4. Snack time
With each audition session lasting several hours, the judges need plenty of drinks and snacks to keep their energy up. Alesha likes sweet and salty popcorn, David drinks lemon squash and Simon's favourite audition snack is a tangerine. This year, Simon and Amanda made beans on toast for themselves during a break in the auditions.
5. Art attack!
There's often some downtime at the auditions as the stage is reset for each act. When this happens, the judges like to get creative by doodling on their notepads. Simon sometimes draws a car and Alesha's been known to draw geometric patterns. David, however, usually keeps his paperwork clean and tidy!
6. Doggy Daycare
With Ashleigh and her late pooch Pudsey winning the show in 2012 and dog trainer Jules O'Dwyer winning with her canine pal Matisse in 2015, it's safe to say Britain's Got Talent is a very dog-friendly show. So much so that the editors who make BGT are also allowed to bring their dogs to work. One very popular edit mascot is called Bo, who can be found on Instagram @bothepoochon. Do we have a future winner in our midst?
Britain's Got Talent continues on Saturday at 8pm on ITV.
Get the latest updates, reviews and unmissable series to watch and more!
Thank you for signing up to Whattowatch. You will receive a verification email shortly.
There was a problem. Please refresh the page and try again.