Broadchurch's David Tennant and Olivia Colman: 'We plan to work together again in panto in our 80s!'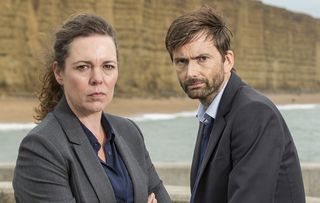 (Image credit: Colin Hutton)
David Tennant and Olivia Colman give the lowdown on what's in the store in the final series of Broadchurch
As David Tennant and Olivia Colman return for the third and final instalment of Broadchurch, TV Times apprehended them on the set of the ITV thriller and took them in for questioning to find out more as they prepare to say farewell…
How does it feel to be back for the final series of Broadchurch? David: "It's lovely to have been involved in something that has meant so much to an audience and I will miss it, but the show's creator Chris Chibnall is certain it is the last series, which makes you wonder if they're going to kill us off in some terrible way! Hardy's pacemaker for his heart condition is working a treat, but there could be a malfunction…" Olivia: "It has been a lovely job so I'd happily do it every couple of years, but it seems right to end it now. Originally it was about a terrible thing that happened in a beautiful place, but if you went up to series 10, it'd be a lovely place where terrible things happen all the time."
So where do we find Hardy and Miller this time? David: "Hardy left town in a cab at the end of series two, but he has come back and has brought his daughter Daisy [Hannah Rae]. So now he and Miller are both single parents and he looks to her for parenting advice – I don't know how wise that is!" Olivia: "I know, especially because Miller's son Tom [Adam Wilson] is going through the terrible teens and there will be repercussions. She also has her dad David [Roy Hudd] staying, which is handy for childcare, but he's not an easy man. Work's the best part of her life." David: "Yes, work's a solace for them both, although they grumble like a cantankerous old married couple." Olivia: "They're best friends though, they'd do anything for each other."
The new case sees farm shop worker Trish, played by Julie Hesmondhalgh, report that she has been raped. How does the investigation impact on them? David: "It's brutal and unlike any case that Broadchurch would have seen before and it shocks them. They initially think it's a rape by a stranger, which is rare, because most rapes are done by people who are known to their victims." Olivia: "It upsets them both. For our research, it was humbling meeting people who support rape victims. They never get any glory, but they devote their lives to helping people who've gone through something hideous."
Do you know who is guilty? Olivia: "Not yet, but I like that, it's exciting! It's great going back to a whodunit again, but David and I think everybody is guilty as soon as we've interviewed them. As actors we're terrible detectives, Hardy and Miller are much better." David: "How dare you?! Who's done it has become the topic of conversation on set though; everyone is intrigued. We had a similar exciting feeling on series one and then it became a national conversation."
Which of your new co-stars have you enjoyed working with? Olivia: "I was excited watching Charlie Higson [who plays Trish's estranged husband Ian] because I grew up laughing at him in The Fast Show. There's a lot of casting against type because Roy Hudd is the nicest man in the world, but he's unpleasant as Miller's dad and Lenny Henry is the nation's darling, but he's socially inept as Trish's boss." David: "Sarah Parish, who I've worked with loads of times, is amazing as Trish's friend Cath. Because Sarah's effortless in what she does, you forget how good she is."
Will the two of you miss working together? Olivia: "Once we've finished filming it might hit us and we'll go, 'Argh!' But we plan to work together again playing the Ugly Sisters in panto when we are in our 70s or 80s." David: "It's hard work; we should do it earlier than that." Olivia: "OK, maybe when we're 60, or 50…" David: "This Christmas isn't too soon!"
Will you take any mementoes from the set of Broadchurch? Olivia: "I won't take Miller's orange jacket. Everyone says it is iconic, but I think she should have bought herself a new coat!" David: "Maybe she wears it because it's lucky?" Olivia: "No, she is SO unlucky! I like Miller's bra though; it's quite comfortable." David: "Hardy's isn't, it really cuts into me!"
What's next for both of you? David: "I've done a film called You, Me and Him. It's a modern romance, produced by my wife [actress Georgia Moffat]. It's exciting working for the missus." Olivia: "I've done a voiceover for a new BBC version of Watership Down, but I keep crying. I promised my mum I'd never watch it because she knew I wouldn't cope, but now I'm seeing it when I record." David: [Starts singing the theme from the original 1978 film] "Bright Eyes, burning like fire." Olivia: "Stop it!"
Broadchurch series three premieres on Monday, February 27 at 9pm on ITV
Get the latest updates, reviews and unmissable series to watch and more!
Thank you for signing up to Whattowatch. You will receive a verification email shortly.
There was a problem. Please refresh the page and try again.