Butterflies stars Wendy Craig and Bruce Montague: 'We're playing naughty seniors in Doctors!'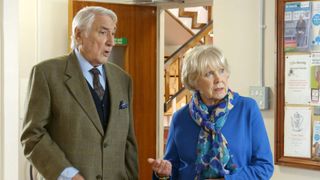 (Image credit: BBC)
Comedy legends Wendy Craig and Bruce Montague on reuniting to play wily pensioners in BBC1's daytime soap Doctors today!
Butterflies was one of the most popular TV sitcoms of the late-1970s and 1980s, so it's exciting news that two of its stars, Wendy Craig and Bruce Montague, are reuniting for a special guest appearance in BBC1's daytime soap Doctors.
Full of big laughs and bittersweet moments, Butterflies followed Wendy Craig's bored, middle-class suburban housewife Ria, who felt taken for granted by her dull husband, Ben (Geoffrey Palmer), and two lazy sons, Russell (Andrew Hall) and Adam (Nicholas Lyndhurst).
Tempted to have an affair with her suave friend Leonard (played by Bruce), the duo's will-they-won't-they relationship produced moments of comedy gold.
In Doctors, they play a pair of wily pensioners called Connie and Clyde, who become prime suspects when the surgery's charity tin goes missing.
Here Wendy Craig and Bruce Montague tell us more about their stint in Doctors...
How would you describe your characters in Doctors, Connie and Clyde?
Bruce Montague: "Well, there's a bit of a clue in our names! We seem to be sweet-natured OAPs, but Connie has an idea for a moneymaking scheme and I'm hopelessly in love with her, so go along with it." Wendy Craig: "In truth, she's a bit of a villainess! Yet also feisty, jolly and they laugh a lot together."
WHAT IS ON TONIGHT? Check out our NEW and Improved TV Guide
Did you know you'd be reuniting with your Butterflies co-star when you took the role?
WC: "Yes, my agent said Bruce was doing it and I said, 'I don't need to read the script – say yes!'" BM: "We get on so well that I agreed straight away. On set, we gave each other leaves, like Leonard and Ria used to!"
Yours was one of TV's most memorable will-they- won't-they relationships, wasn't it?
WC: "That gives me a warm glow hearing you say that!" BM: "It's such a joy when you click with your co-star and form a special relationship. Wendy and I had wonderful chemistry and I'm very proud that people loved us."
Why do you think Butterflies was such a hit with viewers?
WC: "It hadn't been done before. Life for women in the 1970s was very different – they weren't allowed to come out with feelings of longing and show a need for love and attention. Carla Lane, the writer, showed a woman wanting to spread her wings and have more to life than cooking and raising children. Women viewers, in particular, identified with that and I had many come up to me, saying, 'This is my life – I want more, too!'" BM: "Whereas I had female fans sending marriage proposals and naughty suggestions! Butterflies had a universality about it – the frustration of middle age and marital angst, which people identified with. Carla dealt with it so sympathetically."
The 1970s and 1980s are often described as a golden age for TV comedy. Do you think any of today's shows measure up?
BM: "I don't think it's the same now as it was. I loved Dad's Army, Fawlty Towers, George and Mildred – I can't think of any these days that compare." WC: "It was a golden age and a wonderful time to be working in comedy as so much was going on. Unlike now, there was a sitcom on every night. I have watched [Phoebe Waller-Bridge's BBC global hit] Fleabag recently, though, and love it! It was a shock at first, but the honesty in the writing is brilliant."
How does it feel to still be working as octogenarians?
WC:" I love working. It keeps my brain active and gives me a sense of worth. Why retire?" BM: "I write books now but am happy to pop up for TV roles like Doctors. On set there was talk of a spin-off for Connie and Clyde – two wily OAPs bumbling around. Now that would be fun." WC: "It would! You don't often get naughty seniors on TV and it's wonderful to play. Think of the trouble we could get into!"
INTERVIEW BY REBECCA FLETCHER
Get the What to Watch Newsletter
The latest updates, reviews and unmissable series to watch and more!