Caroline Flack: 'The new Love Island won't be a bonkathon!'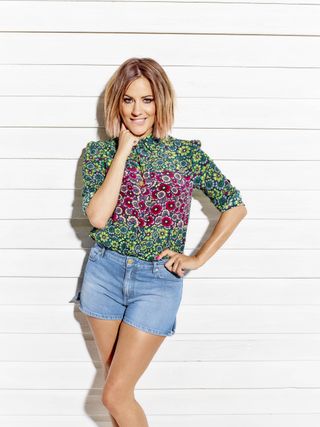 (Image credit: ITV)
You've probably seen the sizzling, suggestive trailer for ITV's reboot of Love Island (premieres ITV2, Sunday, June 7). But host Caroline Flack revealed to What's on TV she's hoping for true love, weddings and babies on the new matchmaking reality series…
Celebrity Love Island was a big hit in 2005 and 2006. What can we expect from this reboot?
"The premise is really the same. It's all about people finding and falling in love. The contestants have been very carefully chosen so I don't think it's going to be a bonkathon! I really want to see genuine feelings."
The contestants live like celebrities in Mallorca until viewers vote them off. What are they like?
"They're so good! And all very different. With something like Love Island you have to have people who are open to everything and everyone. But we're not just putting people in there to watch them be drunk and see who hates who. They all want to find love. We think we've got the right matches in there."
Are you hoping for true love and a wedding?
"And a baby! I'm like a single Cilla Black. This is my dream job – doing live television on a beach!"
Would you be interested in doing a celebrity version?
"Why not? It would be fun! I loved the original series, with proper memorable moments like Bombhead (Hollyoaks' Lee Otway) getting his heart broken. Love Island is a format that works with everybody because it's the stories and feelings of the people we buy into."
Did you always want to be a TV presenter?
"Initially I wanted to act but it didn't happen, so I got into presenting. It seems to be going all right! I didn't know what I wanted to do when I was in my early twenties and could have chosen all sorts of paths. But you can at any age. You can change anything. Sometimes deciding what you want to do is the hardest thing, isn't it? So it's nice when other things come along and you can change."
You're also presenting the new The X Factor with Olly Murs. How does it feel to be headhunted by Simon Cowell?
"For The X Factor to turn around and ask me, would I like to host with Ollie, is amazing! It's going to be a challenge and I'm feeling pressure to do a good job. I don't want to fall over while talking! The way Dermot O'Leary did it was perfect - I'll probably get a few lessons from him."
Have you any insider information on who will be judging the new series?
"I've no idea. I only know what I see in the papers. It was the same on The Xtra Factor, we didn't know until we turned up. But I think we'll find out soon."
You had great success winning Strictly Come Dancing last year. Are you still in touch with the other contestants?
"I loved Strictly so much, I still don't want it to be over! I only dance at home now, but I'm still in touch with everyone, especially my dance partner Pasha Kovalev. All the girls still talk on our WhatsApp group. Judy Murray has an incredible sense of humour and sends the funniest messages!"
Get the latest updates, reviews and unmissable series to watch and more!
Thank you for signing up to Whattowatch. You will receive a verification email shortly.
There was a problem. Please refresh the page and try again.